CARTAGENA, Colombia, (Reuters) – Leaders from North and South America will mix perennial controversies over Cuba and the Falklands with trade tensions and a new look at the war on drugs at a weekend summit in Colombia.
The 33 nations at the Organization of American States' sixth Summit of the Americas in the seaside city of Cartagena are, however, unlikely to bring big changes on the major issues facing the hemisphere.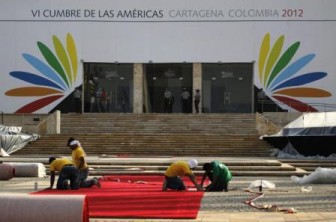 Although not quite the star act he was at the last OAS meeting in Trinidad and Tobago in 2009, U.S. President Barack Obama remains a focus for many Latin American leaders who hope he will pay them more heed if he wins a second term in November.
Many Latin American countries would like the United States to ease its policy of ostracizing Cuba and begin a debate on legalizing some drugs. But Obama, facing a tight re-election contest, is expected to maintain the U.S. hard line.
"Those are politically radioactive issues for Obama. There's no way he can fulfill Latin American expectations," said U.S.-based regional expert Michael Shifter.
Though the summit's official agenda ranges from technology to poverty reduction, Cuba was once again shaping into the No. 1 hot potato for those gathering in the Caribbean port city.
Cuba was kicked out of the OAS shortly after Fidel Castro's 1959 revolution, and efforts by Latin American allies to have it invited to Cartagena failed. Ecuador's leftist president, Rafael Correa, is boycotting the summit because of that.
"I hope this is the last summit without Cuba," said host and Colombian President Juan Manuel Santos. He has built good relations with the leftist ALBA bloc of Latin American nations, despite being a U.S. ally and a conservative politician.
Some Cuban dissidents were in Cartagena, however, to lobby against a softening toward the communist government in Havana.
FALKLANDS WOUNDS
This year's 30th anniversary of the war between Britain and Argentina over the remote Falklands archipelago, known in Argentina as the Malvinas Islands, rekindled bitter memories and is sure to resonate at the meeting.
Argentine President Cristina Fernandez has wide support in Latin America for her demand that Britain abandon its "colonial" occupation and negotiate sovereignty of the islands.
But London, which won the 1982 conflict that killed 650 Argentine and 255 British troops, refuses to consider that and has further irked Buenos Aires by exploring for oil there.
Though heads of state meet on Saturday and Sunday, two parallel events begin earlier: a social forum for non-government groups and a "CEO summit" for businessmen who will have a parade of high-profile visitors from Obama to Colombian singer Shakira.
Given Colombia's history of drug and guerrilla violence, 20,000 soldiers and police officers were deployed to guard the presidents. Marxist FARC rebels, driven back but still active, plotted to assassinate former U.S. leaders George W. Bush and Bill Clinton on previous visits to Cartagena.
Over the last decade, Venezuelan President Hugo Chavez has replaced Fidel Castro as the headline-grabber at regional conferences. Few have forgotten his 2006 speech to the United Nations calling Bush a "devil" and saying he could still smell sulfur at the podium.
Yet with Chavez undergoing radiation therapy after cancer surgery, it is unlikely he will be able to manage more than a quick, one-day visit to Cartagena.
DRUGS AND DONKEYS
Obama remains enormously popular among Latin Americans, especially in contrast to his predecessor Bush, who drew ferocious protests at one OAS summit in Argentina.
In a small town outside Cartagena, locals decked out dozens of donkeys in the red, white and blue of the U.S. flag.
"I've always liked him because he was an anti-establishment figure," said lawyer Silvio Carrasquilla, who helped organize the parade and also painted "Obama, welcome!" on his roof.
The most interesting debate in Cartagena may be over drugs.
There are growing calls from around the world for a fresh look at how to combat a violent, multibillion dollar illegal trade which decades of hardline policies against producers and consumers have failed to curb.
In South America, some believe decriminalizing the growing of coca – the raw ingredient for cocaine – would slash revenue for traffickers and encourage farmers to plant different crops.
"Colombia has suffered for years from this scourge. Organized crime has an ever greater hold on Central America," Santos said after arriving in Cartagena to check preparations.
"We need to take the bull by the horns and start a debate, just to see if there's a better alternative to attack it."
Another simmering issue will be how to deal with a glut of cash from rich nations that is flooding their increasingly strong economies.
Regional powerhouse Brazil has spoken of a "monetary tsunami," and President Dilma Rousseff raised concerns about this with Obama in Washington this week.
While the money flows show Latin America's new robustness during a time of global economic turbulence, they are also driving up currencies, hurting competitiveness and tempting some countries to take protectionist measures to slow imports.
Colombia hopes the Cartagena meeting will speed the implementation of a free trade pact with the United States. "I hope Presidents Santos and Obama announce a date," National Business Association head Luis Carlos Villegas told reporters.
Around the Web