First Lady Deolatchmee Ramotar has encouraged parents to revive reading at home, saying the gift of education can never be stolen from children and fosters achievements.
She was at the time giving an address at the award ceremony of the NCERD/ Demerara Lioness Club reading competition, the Govern-ment Information Agency (GINA) said.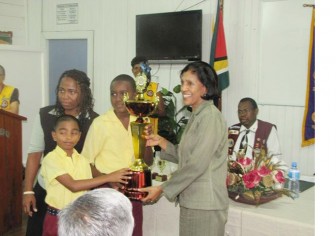 Rhea Alladin of Tucville Primary School won the Best Reader award while Amelia's Ward Primary captured the Best School award in the competition, which is held annually to promote reading in primary schools. This year it was held under the theme 'Promoting Literacy Through Oral Language' and targeted primary school students in regions Four and 10.
"Reading unlocks knowledge… through reading we also use our imagination to travel to distant places, go back to history, learn about interesting people and [to] discover new things," Ramotar was quoted as saying, while urging parents to resuscitate the tradition in their homes by allocating a special time for a family reading session.
Reflecting on her school days, she said, "We did not have television in Guyana… so in our free time we played and read." The First Lady also noted the impact technology has had on how and what children read as gadgets such as computers, tablets, smart phones and other emerging technologies make it easy to find and source reading material and books. "Reading from a computer screen is quite a different experience from holding a book," she said, noting that eventually every citizen will be able to access a computer, which is a "powerful tool that [can] be used to help us to read more, share ideas and exchange information."
In keeping with this, the First Lady urged other organisations and agencies to emulate the Demerara Lioness Club and help to ignite and renew interest in reading in the society.
GINA noted that the competition attracted participants from several schools in Georgetown and Linden including the Sophia, St. Ann's, St. Sidwell's, J.E. Burnham, Tucville, Redeemer, Bel Air, St. Stephen's, One Mile, Wismar Hill, Christianburg, Mackenzie and Amelia's Ward primary schools.
Around the Web