Attorney General Anil Nandlall yesterday said that the government is not fighting for control of Parliament, only proportionality in the representation on the Committee of Selection to reflect last year's general elections results.
"You can't have four (for the PPP/C) and four (for APNU) in that committee; 49.2% cannot be equal to 40%. To decrease us to 40% from nearly 50% is disproportionality. It would be more proportional to give us the .8% seats than take from 9.2% seats from us," Nandlall argued during the continuation of the High Court case challenging the numerical make up of the committee.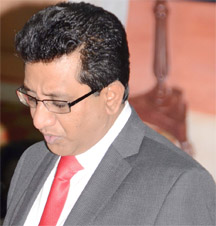 During his submissions, he sought to convince the court why the ratio should be 5:4:1, in favour of the PPP/C, APNU and AFC, respectively, as opposed to the current ratio of 4:4:1.
Attorney Basil Williams, who is among a battery of lawyers representing Opposition Leader David Granger in the case, objected to Nandlall's arguments, noting that the court was to be dealing with the issue of a constitutional breach. He said Nandlall had so far failed to establish that there was a breach. However, acting Chief Justice Ian Chang, who is presiding in the case, allowed Nandlall to proceed with his submissions. The opposition APNU and AFC used their combined majority to reconfigure the committee from ten to nine members, in order to reflect their majority in the National Assembly, where they control 33 of the 65 seats. "The Committee of Selection is the mother of all committees, so the composition there will have a significant impact on how the other committees are configured," Nandlall, however, argued. "When you give PPP four seats, you are giving them 40% representation in those committees. You will also be giving APNU four seats which is also 40% and AFC will get 10% or thereabouts", he added, saying that since proportionality is not a science of exactness, the onus is only to find a formula that as far as possible captures that principle "so that you would not have a conclusion that is mathematically exact." It is always a question of arriving at a conclusion that avoids disproportion, he noted.
Nandlall said that when one examines the current ratio in the context of proportionality, "you would find out that the principle is violated," with the PPP/C losing 4.8% of the seats in the current configuration, while APNU and AFC gain 4.4% and 0.3%, respectively.
He further argued that the National Assembly's Standing Orders were crafted in such a manner to invest sufficient elasticity to allow for proportionality. "They did not pin us down to a particular number. They give us a bracket in which to operate that best captures proportionality," he said, noting that the Committee of Selection's membership can range from 6 to 10 members.
He said  that the 5:4:1 formula does not give the PPP a majority but to bring the party down to four seats or 40% would be disproportional. "It is not the intention of the government side to exert a majority in the committee but to ensure that the composition in the National Assembly is reflected in the composition of its constituent parts," he added.
Nandlall stated that based on the elections results, the PPP/C received 26,000 votes more than APNU and several times over that over the AFC. He added that even a seat represents approximately close to 5,000 votes. "So when you are reducing a seat or depriving a party of a seat in a National Assembly, you are depriving 5,000 people of their franchise and that is the complaint," he added.
He stressed that when allocating seats in Parliament the number of votes must be considered, rather than simply opposition versus government.
"It will be a travesty if I can't get a remedy now," he later said, emphasising that the PPP/C had the largest bloc of voters for a single party. "There needs to be balance and it is that balance that needs to be replicated on those committees," he added.
Around the Web