Opposition Leader David Granger on Sunday reiterated  his promise given during the 2011 General and Regional elections campaign to work towards making Bartica a town, as he was declaring open 'Bartica Regatta, 2012'.
Granger pointed out that Bartica meets all the requirements for a town, according to a press release yesterday from the Office of the Opposition Leader.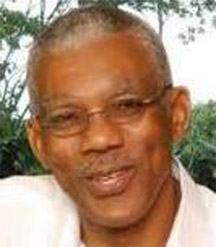 He noted that it possesses its own aerodrome, banks, commercial community, churches and other places of worship, hospital, hotels, markets, schools, stelling and other utilities.
It is also the administrative centre of the country's second largest region – the Cuyuni-Mazaruni,  which is bigger than the Netherlands.
Granger said he would work towards making Bartica a town with its own elected mayor and municipal council.
The Leader of the Opposition also reminded thousands of tourists and spectators who converged at the Bartica beach front that the regatta was inaugurated over 60 years ago by Wilton 'Jinks' Angoy who was District Commissioner in 1947-50.
Brigadier Granger, accompanied by other dignitaries, was taken on the 'lap of honour' before the speedboat races started the day's events.
Granger congratulated Region Seven Chairman Gordon Bradford and members of the Bartica Regatta Committee for maintaining the tradition and for continuing to attract large numbers of visitors and participants.
According to the Opposition Leader, it is clear that the community's development is being hampered by the administration's reluctance to implement the decision taken years ago to declare Bartica a town.
Bartica was founded by Anglican missionaries in 1842 and will celebrate its 170th anniversary this year, the release added.
Around the Web