The Oldendorff Carriers Guyana Inc, based in New Amsterdam which is gearing to increase its transshipment of bauxite with the expansion of RUSAL, is preparing to welcome President Donald Ramotar today.
The president is to visit the Oldendorff Compound in NA before heading to the Andrew Basin for a firsthand look at the operations of the German company.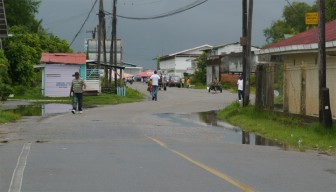 Captain Zakaria El Dib told Stabroek News in an interview that the president's visit would be a big event and that the workforce is excited to have him there.
Oldendorff Carriers, one of the world's largest private shipping companies, was awarded a major contract in 2006 with the Russian Aluminium Group (RUSAL) to ship over two million tons of bauxite per year.
Captain El Dib told this newspaper that the figure would be increased to up to four million tonnes per year. More employment opportunities would also be provided to add to the local staff of about 200. RUSAL which owns the Bauxite Company of Guyana Inc (BCGI) at Aroaima, Upper Berbice River would be opening two new mines at Block 22 at Kurubuka and Block 38 at Cocrite.
It recently deployed US$21M worth of vehicles and equipment from its business in Jamaica.
Facelift
Meanwhile, Oldendorff will be giving a facelift to the NA stelling and to the access road [Matthew Allen] starting this week.
The project is expected to be completed in about three weeks.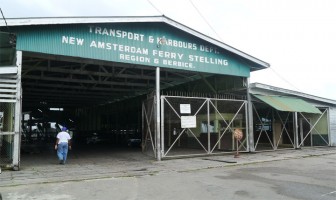 Captain El Dib told this newspaper that the project entails renovating and cleaning the stelling and the street, installing heavy industrial garbage bins, making a new car park and planting flowers along the road.
The company would also be providing a coat of paint to the snackette owners close to the stelling to beautify their stalls. It would be responsible for clearing the garbage and would also erect signs, advising persons to keep the area clean.
At the moment, he said "the street looks like garbage" and asserted that after the transformation he wants everyone to "keep it clean."
He also wants it to be attractive especially to persons from other countries that visit the company via the stelling.
Captain El Dib said too that they could take the foreigners for entertainment at one of the bars along the stelling road but were discouraged because of a garbage dump opposite it.
He made an arrangement with the owner of the bar to join with him to clean the area if he wants an increase in his business and the owner has already started.
He said too that if other business persons volunteer to assist with one street in a similar manner, the town would be kept clean and it would help to improve tourism.
Around the Web