Two children died last night in a fire of unknown origin at Parfait-Harmonie, West Bank Demerara.
Dead are 9-year-old Andrea James and her cousin, 6-year old Jarvind Alonzo Douglas whose charred remains were pulled from their Lot 689, Independence Drive home some two hours after  the fire. James' brother Andre, 11 and another cousin were hospitalised following the blaze.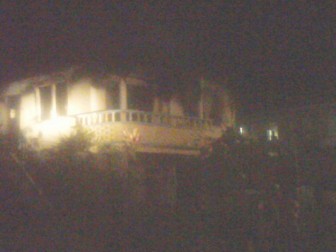 According to reports, sometime around 10 pm, flames were seen by neighbours in the top flat of the house. A neighbour told Stabroek News last night that she observed the house on fire and immediately ran to the scene. She said that based on accounts provided, the four children were left alone at the house by an adult who then went to a wake house.
She said that within a matter of minutes the fire consumed the upper flat of the house. She added that public-spirited citizens managed to pull the two surviving cousins from the house but were prevented from venturing farther into the house as the fire raged through the building.
She said that members of the Guyana Fire Service (GFS) raced to the scene and managed to control the flames but according to her, it was soon realised that two of the children were missing.
When this newspaper arrived on the scene, scores of neighbours and onlookers gathered in front of the gutted house as the firemen scoured the house for the two children. Early this morning, their remains were discovered. James was found in a bedroom while her cousin's remains were found at the front door of the house.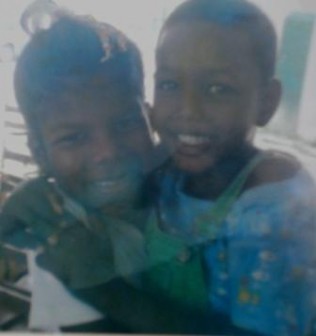 Douglas' father James Douglas was reduced to tears as he received news of his son's passing. He said that Jarvind was his only child and he noted that the boy lived at the house with his sister. The charred remains of the two children were later removed from the scene by a private funeral home.
Firemen at the scene noted that the large number of speed humps located along Independence Street, La Grange prevented them from arriving at the scene earlier. They said that the residents of the housing scheme at Parfait Harmonie should inform the authorities of the problem which they noted can hinder the fire department's response to emergencies in the area.
Over the past several days there have been a number of fires in and around Georgetown. On Sunday night a house at Beterverwagting on the East Coast of Demerara (ECD) was reduced to ashes following a fire which left one man homeless.
On Tuesday, the Tucville home of a Guyana Revenue Authority (GRA) employee was gutted by fire which was said to be of unknown origin.
Around the Web