Calling for better representation of the poor and vulnerable, APNU's Volda Lawrence proposed that the 2012 budget be amended to offer a minimum old age pension of $10,000 per month.
"Today, we are spending $315 million and as of May 1, it will be increased to $340 million. All that had to be added is $25 million which works out to a miniscule percentage of the [sum allocated] to GuySuCo and the Guyana Power and Light," she said during her contribution to the debate on the national budget yesterday.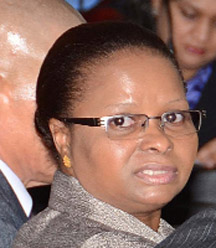 Lawrence likened this year's budget to an inflated balloon for the 18 percent of Guyanese who fall within the extreme poverty bracket and the 36 percent who find themselves moderately impoverished. Lawrence, a former Chairperson of the Public Accounts Committee, said that Minister of Finance Dr. Ashni Singh, during his presentation, made no mention of the amounts allocated in the estimates to tangibly bridge the inequalities between the haves and the have-nots. She called the budget anti-poor, anti-ordinary citizen, anti-vulnerable group and which "more than ever, it is one that only takes care of the boys."
"Does the government find no discomfort in doling out $3 million to one person as pension and benefits every month or $100,000 per day? The Minister should tell this nation, given all that he said, why the allocation for the Ministry of Labour, Human Services and Social Security was reduced by $214 million and more particularly why the allocation to Human Services – other charges decreased by $210 million as against the allocation in 2011.
Is this the strategy to reduce or lessen the burden on those in the poverty bracket?" she asked.
She said that Minister Singh, having spoken of six consecutive years of growth, in addressing the most vulnerable groups made three statements "for which he deserves three awards." She said these were that old age pensions increased by $600 monthly or by $20 per day; that public assistance went up by $400 per month or $13 per day; and that the income tax threshold increased by $10,000 per month.
"The Minister, Madam Speaker, has proceeded without paying attention to any shifts in the age distribution in Guyana, given that our population aged 65 and older have exceeded over 10 percent of our population," she said. She added that a large percentage of the elderly are dependent on family members for support. "Those who depend on pensions to survive must face the high cost of food, medical attention and transportation, among others, and most often live below the minimum standards. This budget offers no hope for them to be relieved from their impoverished conditions," she said.
Lawrence pointed out that there has been a steady increase in the number of persons who apply for old age pensions. She noted that this figure has moved from 2,500 every year from 2006 to the first half of 2008. According to her, there was a substantial increase to 2,900 from the last half of 2008, 3,009 in 2009, 3,500 in 2010 and 800 for the first quarter in 2011.
Lawrence pointed to the need for Guyana to consider reviewing its age of retirement and look at what she called the emerging picture of the elderly group. "With the increase in the number of elderly people, our pension schemes would be unable to support the large number of pensioners who make demands on them," she said.
She said too that it is lamentable that nothing has come out of the National Insurance Scheme's (NIS) Reform Committee's report, which made a number of recommendations for the future viability of the Scheme. She pointed out that the age of retirement of 55 years places a greater strain on the ability of the NIS to meet its obligations to a large number of persons, who are forced into retirement.
Lawrence said that government's reluctance in acting on the NIS recommendations is a blatant disregard for the many pensioners and workers who by compulsion must continue to have their earnings paid into this scheme. "Madam Speaker, the government must realise that many of the past and present contributors to NIS gave a mandate to APNU and AFC on November 28, 2011 to represent them and address their concerns in this House. This is, therefore, one of those issues which we will undoubtedly address as we review this 2012 budget," Lawrence said.
Around the Web