An argument over a hammock has left a miner from the Five Star Backdam, in the North West District of Region One dead, in the latest incident that has raised concern over the growing violence in the interior area.
Lennox Heywood, 21, of Lot 413 Heath Street, Golden Grove, East Coast Demerara succumbed at around 6:45 am yesterday at the Matthew's Ridge Hospital, where he was rushed the night before with stabs wounds to his neck and body.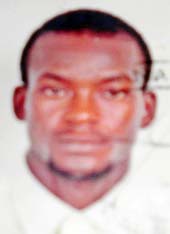 A health care official from the hospital told Stabroek News that although Heywood was conscious when he was brought out of the backdam, his condition was critical since he had lost a great amount of blood. The official said that before passing away, Heywood recounted that a frivolous argument between him and a couple who had occupied the hammock in which he slept was the source of the attack.
From reports, the man returned to the camp where he worked and saw a man and a woman lying in his hammock. He questioned their being there and after an argument a  fight ensued, resulting in Heywood  being stabbed several times.
In a statement, police, however, said that about 10pm on Wednesday, Heywood was involved in an argument with a woman at Lima, Five Star Backdam, North West District, during which he was allegedly stabbed.
While a relative of Heywood indicated that the woman was held last night by the police, the force did not confirm this information yesterday.
The growing number of patients brought out to Matthew's Ridge Hospital because of injuries received due to conflicts between miners is cause for concern, the official noted. "If is not a murder, is a stabbing, is a shooting, is something. Every other day is something in the backdams… They need more police to ensure law and order out here, these men drink up and fight up plenty," she said.
Heywood's maternal grandmother, Myrna Bacchus, was inconsolable yesterday when Stabroek News visited his Golden Grove home. Fighting to hold back tears, the woman told of the jovial personality of her grandson.
The fourth of his mother's ten children, Bacchus said that Heywood had developed a strong bond with her as she raised him from infancy. "I raise him since he was a baby a baby, ow," she said, noting that he stayed with her even as his other brothers and sisters chose to move into the bottom flat of the home. His mother, Denise Bacchus, resides in Barbados.
The elderly Bourda market fruit vendor said that she last saw her grandson in September last year, but added that he would frequently send money to assist her.
He was scheduled to return home on Sunday last but apparently did not check in on the Georgetown-bound flight on time.
He had been working in the interior for the last three years ago and had neither children nor a wife. Bacchus said his family is currently awaiting word from the police about when his body will be brought to Georgetown.
Around the Web