CARTAGENA, Colombia, (Reuters) – Americas Summit host President Juan Manuel Santos welcomed businessmen and fellow leaders to Colombia today with a call to bury political differences and advice for the United States to turn its attention back to Latin America.
"If the United States realizes its long-term strategic interests are not in Afghanistan or Pakistan, but in Latin America … there will be great results," Santos said hours before U.S. President Barack Obama was due to arrive.
Obama had a rapturous welcome at the last Summit of the Americas in 2009, and Latin Americans had big hopes, including the possibility of U.S. rapprochement with communist-run Cuba.
But global priorities such as the Middle East situation have distracted Obama, and China has stolen a march on the United States in its own backyard to emerge as the No. 1 trade partner with various countries including regional powerhouse Brazil.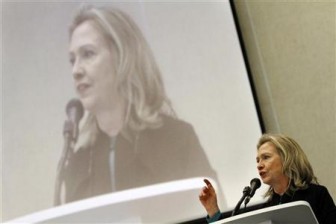 "We have water, we have scope to increase food production, we have biodiversity, we have a young population. Just what the world is looking for," Santos said.
His comments came in a speech to hundreds of businessmen from North and South America meeting ahead of the Organization of American States (OAS) sixth summit attended by more than 30 heads of state in the historic Caribbean port of Cartagena.
With deep ideological fissures dividing Latin America over the last decade, the Colombian leader urged his fellow heads of state to follow his example of putting pragmatism first.
"Let's respect our differences but stay together. Who would have imagined Venezuela and Colombia working together?" asked Santos, whose first action after taking office in 2010 was to bury the hatchet with socialist President Hugo Chavez next door.
CHAVEZ COMING?
Despite being weakened by radiation therapy for cancer, Chavez may fly to Colombia today for a quick in-and-out visit where he would be sure to grab headlines.
That raised the prospect of a second encounter in person between Obama and Washington's main critic in the region – or at least a typical Chavez scolding from the podium.
After warmly greeting Obama at the 2009 summit, Chavez has turned on him since, saying the U.S. leader has disappointed the world and continued the "fascist" policies of his predecessors.
Various presidents had arrived by today, donning traditional loose-fitting "guayabera" shirts to cope with the heat in tropical Cartagena.
Mexican President Felipe Calderon also addressed the meeting of business leaders, making an impassioned plea to curb rising protectionism in the region in response to a flow of funds from rich nations that has strengthened currencies and hurt competitiveness.
One of Latin America's biggest free trade advocates, Mexico feels particularly bruised by protectionist moves by fellow heavyweight economies Brazil and Argentina.
"If you want to have an industry that exports, don't protect it. If you want to have a child that walks, don't protect it from walking," said Calderon.
As well as trade tensions, feelings are running deep on a string of other delicate issues round the region.
Ecuador has boycotted the summit in solidarity with Cuba, once again not invited since it is not an OAS member.
Other nations in the left-wing ALBA bloc are also furious at the omission, and Latin America is broadly united against the U.S. sanctions on Cuba.
"We have arrived with the conviction that this must be the last summit without Cuba," Bolivia's President Eva Morales said.
"NO COLONIAL POSSESSIONS"
Arriving ahead of Chavez, Venezuelan Foreign Minister Nicolas Maduro said 32 of the 34 nations invited to the summit opposed Cuba's absence, with only Canada backing the U.S. stance.
Passions are also high over the 30th anniversary of the 1982 Falklands War between Britain and Argentina.
Argentine President Cristina Fernandez has wide support on the continent for her demand that Britain negotiate sovereignty of the islands, which are known in the region as Las Malvinas.
"There should not be colonial possessions in our America," Venezuela's Maduro said.
Another big issue on the summit agenda is drugs, with Latin American leaders clamoring for a new approach to beat traffickers and reduce violence in the region.
Many want to start a discussion on possible legalization measures to take the vast profits out of the trade. But Obama, seeking to avoid upsetting U.S. voters ahead of a re-election bid in November, opposes that.
In an interview with a Colombian radio station, Obama did, however, take a conciliatory line in echoing the region's oft-cited complaint that the United States is the biggest consumer and so must sort out the problem at its end.
"In the United States we have a responsibility to reduce demand for drugs, and that's why I've put in billions of dollars in public health to try to encourage the treatment programs, the education programs, the prevention programs that can reduce drug demands of the United States as such a large market for the drug traffickers," he told the Radio W station.
Away from the serious issues, there was plenty to entertain the thousands of visitors to Cartagena: from sun-kissed beaches and local dance troupes, to a soccer match planned for Friday afternoon between teams led by presidents Santos and Morales.
But in a nation emerging from decades of guerrilla and drug violence, 20,000 soldiers and police kept careful watch on the proceedings from air, land and sea.
Around the Web