Former parliamentarian Nellie Charles, 78, was one of several persons who were rescued from a William Street, Kitty house which yesterday afternoon razed by a fire started by children playing with matches.
Around 2 pm yesterday, Charles, who is visually-impaired, her two grandchildren and two other persons were at the top flat of the Lot 37 William Street home when the children emerged from a bedroom engulfed in flames.
Charles was rescued from the house by neighbours while her maid and a visitor managed to pull the children out of the house, which was razed within a matter of minutes.
Fire-fighters later scurried to the scene in two fire tenders and managed to contain the blaze to the house, while a neighbour's home was partially scorched. Charles's son, Lennox Forde, told Stabroek News that he was about to leave the area after visiting his mother when someone raised an alarm about his mother's house being on fire. Soon after, he said, the entire top and bottom flat of the building was reduced to ashes.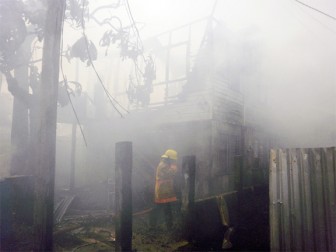 Forde, who added that he was grateful that no one was injured, said that he was informed that the children were playing in a room at the back of the house when one of them threw a lit matchstick on a bed. In minutes, the bed was engulfed by flames and at this point the maid managed to pull the children out of the house, while others assisted in getting Charles out.
According to Forde, nothing was saved in the house, which was being occupied by 10 persons, including his mother, who, he said, served briefly as a parliamentarian for the PNC during its time in government.
His sister, Donna Mathis, was lost for words at the scene as she informed neighbours that all her belongings were gone. She said that she was at work several streets away at the Bounty Supermarket, on Alexander Street, when she received news that her home was on fire.  Her neighbour noted that he was upstairs at his house when he observed smoke billowing from the house. Since the fire had engulfed most of the house, the man said he was keeping a count of his appliances and other belongings as the firemen worked to contain the blaze.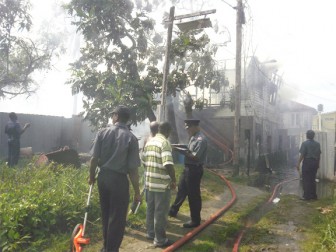 There have been several fires in recent days which have gutted several homes in and around the city.
On Wednesday evening, two children were burnt beyond recognition at their La Parfaite-Harmonie home. The two children, Jarvind Douglas, 6 and his cousin, Andrea James, 9 were trapped in the top flat of the house while their two cousins were rescued from the burning house.
Around the Web