The Georgetown Chamber of Commerce and Industry (GCCI) has a new executive at the helm and high on its agenda is to lobby the government to overhaul the current tax regime for businesses.
Clinton Urling is the new GCCI President, with Lance Hinds, Senior Vice-President, Shawn Ramjattan, Junior Vice President, Coleen Patterson, Treasurer and Molly Hassan, Secretary, making up the rest of the executive.
At a news conference at the GCCI's Waterloo Street office to introduce the new executive to the media, Urling, who previously served on the body, expressed gratitude to members for making his elevation. His predecessor is Komal Ramnauth.
He informed that since the new executive was only one-day old, it would be a few weeks before the members formalised a work plan but assured that it would be presented to the public as soon as it is completed. The GCCI's current five year plan will expire this year.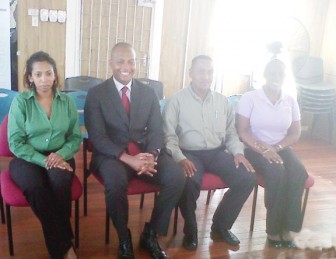 Speaking with Stabroek News, Urling, however, disclosed that business tax reform is an area that the organisation plans to work relentlessly to overhaul.
Through the umbrella body, the Private Sector Commission (PSC), he explained, the GCCI will seek to achieve goals members designate as urgent. "There is already a process in place and the Chamber has placed its support behind this initiative and will call for an acceleration of that committee's work," he said, referring to the work of a three-man committee.
"…We are not happy with the corporate taxes we have to pay… It came down 5% last year but we are looking for it to ultimately come down to about 30%, even if it's over a period of time… it has to if we are to compete globally," he insisted.
Urling cited the telecommunication sector as an example of an industry which is subjected to unfair taxation, given that companies are required to pay 45% corporate taxes. As a result, the GCCI will work towards getting an across-the-board taxation system of businesses that would not penalize businesses because of their profit margins.
Also a priority for the GCCI will be the formulation of a document which affirms the non-partisanship of the entity, as an assurance to stakeholders and the public.
Further, an advocacy committee will also be formed so that when there is any pronouncement on an issue, it will not state the personal stance of the speaking member but rather the body.
"In the past, what was done was ad hoc, where the president could have stated his personal position without the agreement of the members…This year we have structure and will work accordingly," he said.
Meanwhile, Urling also disclosed that the GCCI expects that construction of its new state-of-the-art headquarters will commence before the end of the year.
He stated that building plans were ready and they are awaiting affirmative word from the City Council before the old building is demolished and replaced by the new one.
Around the Web