A suspected police chase ended in a car slamming into two utility poles at Goed Fortuin, West Bank Demerara on Friday night causing a blackout in the area.
The car PMM 9414 driven by Rajendradat Lall crashed into the poles some time around 11.35pm on Friday, causing a power outage to parts of the West Bank for approximately two hours.
According to Ewart Benjamin he had just retired to bed at his Lot 15 Public Road Goed Fortuin, WBD home when he heard a noise outside his home, and on checking saw a car tumbling. It came to a stop, he said, after uprooting the two utility poles in front of his home and knocking out the boards from his bridge.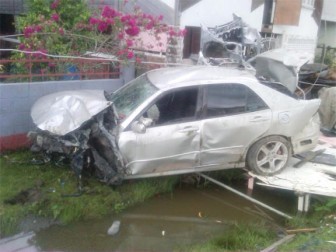 Benjamin said that he only saw two persons in the car both of whom were wearing their seatbelts and who were also saved by airbags. He added that after the car crashed into the poles and came to a halt a police patrol vehicle drove up and he thought that the men may have been trying to escape from the police and had lost control of their vehicle in the process.
Meanwhile, at the Vreed-en-Hoop Police Station Lall's angry relatives expressed their frustration at the treatment meted out to him.
His cousin Denish (only name given) said that he was told that there were four persons in the car at the time of the accident and that Lall and Arnold (only name given) were in police custody while one received treatment at the West Demerara Regional Hospital and was sent away and 13-year old Satish Dhanraj was transferred to the Georgetown Public Hospital.
Denish told this newspaper that when they arrived at the police station some time between 12.30am and 12.45am the gate to the compound was closed and the female officer on duty denied them entry telling them "You have to come back when dayclean."
As a consequence they were unable to speak to Lall, he said, and did not know exactly what happened and if he had been injured. He told this newspaper that sources from within the station informed him that the man had been complaining of intense chest pains but ranks refused to transport him to the hospital.
Around the Web