Guyana's tourism industry is like a newborn babe compared to those of her Caribbean counterparts. This places the country in a unique position to ace customer service, as unlike many other Caribbean countries whose workers may be suffering from information fatigue Guyanese tourism employees are now learning.
This is according to President of Etiquette Training International Phillipa Morrish, a US-based Guyanese, who during an interview with the Sunday Stabroek said that Guyanese tourism sector workers are like youngsters and have the energy to make a difference.
With the 13th annual Caribbean Conference on Sustainable Tourism Development set to open in Guyana today and run until Monday, Morrish said this presents a platform for Guyanese to showcase their customer service skills. She pointed out that hundreds of persons, including journalists, will converge on Guyana for the conference.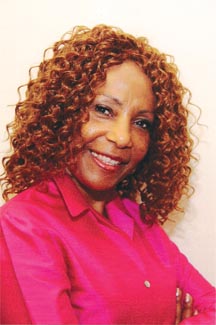 "Our etiquette needs to be in top form because especially with all of these journalists descending here they would be looking for both how we welcome our visitors, beginning from the airport…" she said.
That being said, Morrish felt that the banner which welcomed the visitors to Guyana for the conference should not have been in the middle of two other banners and would have had a bigger impact if the flags of the countries to be represented had been hung next to the banner.
"We are relatively small in this tourism market; we need something that will make us stand out. We do have eco-tourism which we are trying to promote, but ultimately we are dealing with people and if we ace customer service… We have a good chance because Guyanese are very warm people so it is not like we are starting from scratch, and with technique… our aim is to make the guest's stay a memorable one," Morrish told the Sunday Stabroek.
She praised the Ministry of Tourism on its good manners compaign in the run-up to the conference as it is all part of the awareness that as hosts we are not only dealing with Guyanese but people who are accustomed to another level of training.
Morrish has been doing her part in the area of training for the past three years. She said that many times minimal emphasis is placed on the receptionists and the security guards, but those are the people who need the training as often they are the first point of contact with a visitor.
She said that if Guyana is going to compete then more training must be done, as the other countries have customer service "almost down to a science" and as such Guyanese need to improve what they are doing.
"We are at the beginning of our thrust; we have the excitement of any new project on our side and people who offer training are key…" she said.
Respect is also important, and Morrish said for Guyanese to have respect for visitors they must start with respecting each other, since it is impossible to be disrespectful to your own and suddenly switch when interacting with visitors. "We have to promote respect among ourselves and when the guests come we would automatically be respectful to them," she noted.
She feels that an 'I am Guyana' campaign should be launched, with citizens being taught and urged to represent the country in every way they can so they would start taking pride in the environment they live in.
Morrish is also of the opinion that during their training teachers should also be trained in classroom etiquette.
Politician's wife
Being married to a politician shortly after she left Guyana for the US in 1978 is what woke Morrish up to all that needed to be learnt in the area of good etiquette. She is married to retired assistant to several congressmen, Lawrence Morrish, who in his active days represented various congressmen at functions.
"Even though I had a very good academic education here because I left as a UG student, I realized that my social education was very poor or it was lacking, because the places we went, I didn't know the correct dress, I didn't know you had to take a gift to a certain function. These are things we are not accustomed to, so I didn't know," she told the Sunday Stabroek.
Eventually Morrish said she became tired of calling the wives of the men in her husband's circle and asking questions, and she took the bull by the horns and enrolled in the Ophelia De Vore School of Charm, New York City and later obtained additional Social Protocol training at Minding Manners in London, England.
When she attended the schools Morrish said she did it for herself, but when word got out about her training – shared by her husband – she was invited to do training at a Catholic girls' school and she has never looked back since. She said the academic training she received boosted her experience since because of her husband's job, she travelled all over the world and observed other cultures, as well as doing a lot of reading.
She would be hosting her own conference on promoting etiquette and social protocol at the Pegasus from April 17 to the 19 for forty persons, which is already booked.
This is the third year she is holding the conference, and Morrish said her aim is to raise awareness about the little things that would promote a better feeling for the visitor from the time they enter the country to the time they leave.
She has been hosting such conferences and workshops in various countries since 1999, including the US, and she will have eight weeks in St Martin later this year. At the end of the conference the participants will receive a certificate as they would have completed 10 modules in social protocols including handshakes and introductions and how to resolve conflicts in office situations.
She said simple things like the correct way in which to sit guests according to their level of importance are not known by many, and those are some of the things she focuses on in her teaching.  Morrish said she has had such experiences in other countries.
Following her conference Morrish said she conducts online training with her trainees for free and every week they receive new tips, while there is an online forum where they can have discussions with one another.
Over the years Morrish has made it her duty to return to Guyana on vacation, and it was a spontaneous visit to the Bishops' High School which her sister attended, that triggered her training conferences. She recalled that she had a chat with the headmistress at the time and she indicated that she would not only love to have such training for the teenagers who were about to leave school but also for the teachers.
Since then she has had free training programmes for the seniors who are about to leave school and she would have persons in the US sponsor a child and the child would then write a thank you note to their sponsor. Students from some of the senior schools and even those who contact her online are included as long as they are below the age of 22.
The training programme for the students is held at the end of July, and while some students apply on their own, schools also apply, and Morrish said she found out that many of the students cannot even eat with a knife and fork.
"We need to realise that a good academic education needs to have a good social education as its counterpart. We just can't put all the emphasis on one, especially since the world has become a global village… and we are travelling the world a lot more and it is one of the worst things in the world to be embarrassed…" Morrish said.
Morrish knows how that feels, and her embarrassment did not start with her marriage to a politician. She recalled that when she was 16 she was invited to have dinner with a friend and could not begin her meal because there was no spoon on the table. "I felt so embarrassed in front of my friend and I think all of this in one way or another can tie into this embarrassment as a child, because when I left and I went abroad and I met my husband, that wound as I call it, never totally healed," Morrish said.
She remembered recently visiting Thailand where most of the visitors left the immigration officers smiling because of the manner in which the officers welcomed them, and she feels strongly that it is something that the immigration officers at the Cheddi Jagan International Airport should learn.
"Just saying welcome to Guyana if it is a tourist, because from the passport you would know and even to our people, returning Guyanese, saying 'welcome home'… doesn't take much, but that one sentence just gives a person a better feeling about entering a country," she said.
Around the Web