(Trinidad Express) Indra Gangabissoon —the elderly woman who was brutally beaten by thieves three days ago—died at the Port of Spain General Hospital yesterday.
She never regained consciousness.
Gangabissoon, 76, was bludgeoned on the head and face in an attack at her home at Carapichaima.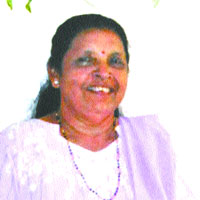 Her 92-year-old husband, Sugrim Gangabissoon, was also beaten on the head. He was treated and discharged from hospital.
Indra suffered a fractured skull, broken jaws and her eyes were swollen shut.
The couple were attacked on the day they celebrated their 59th wedding anniversary.
"But we didn't have anything planned to celebrate. My mom was preparing the house to have a grand celebration for their 60th wedding anniversary next year," daughter Radha Maharaj told the Sunday Express yesterday.
Maharaj said her family was called to the hospital early yesterday morning.
"The doctors told us to come in for 8 a.m., but we ran a little late and when we got there they said she died at 8.10 a.m. When the doctors first saw my mother, they knew she would not survive the beating, but they did not give up. They said her brain was severely damaged and no amount of surgery could repair it. But the doctors and nurses worked hard to try to save my mom. Nothing prepares you for something like this, we are devastated," she said.
Maharaj thanked family doctor Jason Rampersad for arriving on the scene shortly after the couple were discovered by their daughter.
"He knew right away that her skull was fractured and he called the ambulance. The staff at Couva District Hospital and San Fernando General Hospital were waiting for us."
And she commended the doctors and nurses at the health facilities for their response and dedication.
Gangabissoon, the mother of six girls, was the one whom her daughters and grandchildren turned to for advice and encouragement, Maharaj said.
"She was the most loving person, the matriarch of this family. She did everything for her children. And she was the most inviting person. Whenever a person came to her house they didn't leave without a parcel in their hands," she said.
Maharaj said her parents went to cash their pension cheques and her father visited an eye specialist before returning home around 11 a.m. on Thursday.
"They usually change their clothes and then have breakfast, but on this day they didn't change. My mother was on the phone with my sister. All my sister heard was 'Oh God' and then the line went dead. The thieves emptied my mother's bag and took her money. My father's money was still in his pocket. I believe this was a well orchestrated crime, they were monitoring these elderly people," she said.
Maharaj said when she saw her mother lying inside the house, she appeared to be conscious.
"We put her on a pillow and gave her two sips of water. She didn't seem to know what was going on. Her eyes and the left side of her face were black. My father was disoriented as he too was bleeding from the head," she said.
Maharaj said her parents were devout Hindus.
"And they were very close. The doctor came this morning and calmed my father before we told him mama died. He started to cry, but then he said he has to be strong for the rest of us. Imagine at 92, he is trying to be strong for his children," she said.
Homicide detectives visited the family yesterday.
The Sunday Express learned investigators were pursuing several leads.
Anyone with information can contact the Southern Homicide Division at 652-0495.
Around the Web