The Roraima Group of Companies' Wedding Expo 2012 opened on Friday and was hailed as an opportunity for big businesses to assist in the growth of small start-ups.
The three-day event, organised under the theme "From the Altar to the Kaieteur Falls," is being held at Duke Lodge, in Kingston.
Speakers at the opening said Guyana's Wedding Expo is unlike any other in the Caribbean and noted the country's potential as a wedding destination.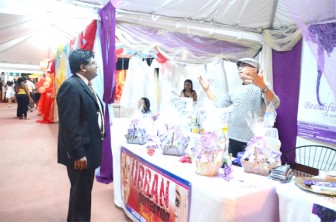 Among the speakers was Yog Mahadeo, CEO of GT&T, who emphasised the importance of supporting small businesses, while noting that they are the foundation for all the big companies. In this context, Mahadeo said that while a business might not be a subscriber to the telephone
network, he has no problem sponsoring them at the expo.
Other speakers included Roraima Group Chairman Captain Gerry Gouveia, acting Tourism Minister Irfaan Ali, Georgetown Chamber of Commerce and Industry President Clinton Urling, and Private Sector Commission Chairman Ramesh Dookhoo.
The opening also saw a fashion display that showcased a variety of locally-designed wedding attire. Visitors were also treated to cake and wine samples by some of the companies exhibiting their products and services.
The expo concludes tonight.
Around the Web