Speaking on Friday during the ongoing budget debate, Hughes argued that money spent on GINA and NCN at the expense of pensioners and organisations that help the vulnerable is akin to throwing good money after bad.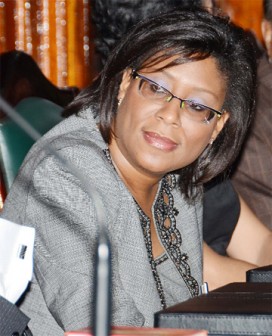 As a recipient of state funds, NCN must be examined within the context of a public service broadcaster. She said upon such an examination it would be clear that NCN does not fulfil the mandate of a public service or national broadcaster "and therefore should not be receiving together with GINA, a total of more than 241 million dollars as outlined in the estimates.
"I mentioned before the propaganda machinery GINA received $111.49 million last year and has been allocated an increase to $130.39 million in this year's estimates. Surely Mr. Speaker this expensive propaganda cannot be considered as critical to the development of a better Guyana," she said.
"In addition to GINA, NCN in the estimates which received $70 million last year has now been allocated $81 million. This is a waste on partisan propaganda," said Hughes.
She said that NCN has deliberately refused access to this nationally owned station to large sections of the population in direct contravention of the provisions clearly outlined in the Constitution. "Political parties such as the AFC, the PNC and most recently APNU have been consistently excluded not even allowed a right to reply…a foundation of any democracy," she said.
"Mr. Speaker, the AFC is not prepared to go to another election where the NCN dictates that the opposition will only get 5 minutes air time, but gives the PPP blanket coverage with equipment that was paid for by all Guyanese including the taxes from the majority of Guyanese that voted for the political opposition in this House," she said.
Hughes stated that the monopoly that NCN exerts in Linden across the television and radio airwaves continues unabated and is a breach of a decision of Guyana's courts which ruled that the situation in Linden was a breach of the constitutional rights of Lindeners.
"The failure to issue licences in a fair and objective manner, the refusal to allow existing TV stations to expand their signal, the recent subjective allocation of a few radio licences to members of the PPP's family and friends network, is nothing short of a dictatorship which the PPP is so prone to crying down. NCN fails to remember that the spectrum belongs to no one and as occurs in the smallest Caribbean island and the largest developed country but not in Guyana – must be managed in a non-partisan manner, educating, informing and entertaining and providing ideas and exchanges from all walks of life in the public's interest," she declared.
Hughes held in her hand a copy of a letter, which she has agreed to share with the Parliament, in which the CEO of NCN points out that NCN is registered as a company incorporated under the company's act  29 of 1991 and receives over 90 percent of its revenue from advertising.
"This is a wonderful feat for NCN and given this information it is clear that NCN and the Government Information Agency do not need over 240 million dollars from the limited national coffers. It is after all a successful company that clearly can compete effectively with the private sector, although this is not allowed in several countries," Hughes said. "Surely this Honourable House cannot authorize the use of hard earned taxpayers' money in such a manner," she said.
"The fact that NCN has made no attempt to change its modus operandi over the years and the fact that the best of international election and media monitoring experts have noted this unacceptable situation, election  after election and yet unfortunately nothing has changed it is now clear that only this house can and must make that change," Hughes declared.  "Let the agencies that NCN and GINA serve fund their activities if they refuse to serve the interest of all in this nation."
"Mr. Speaker, the people are tired of the NCN diet and more so the people of Linden. Now to add to their insult, this government is saying it cannot subsidise electricity costs for Linden. Mr. Speaker, I am suggesting that we take the $81 million dollars budgeted for NCN and put it towards subsidizing electricity for Linden. I am showing the government how taxpayers' money can be better utilized in the best interest of the people of Guyana. If the people can't afford to pay for electricity they can't watch NCN anyhow," Hughes said.
She pointed out that in 2008, 2009, 2010, the budget included some $200 million in total in those three years to purchase and install a new transmitter and purchase production equipment for various locations for NCN.
"But most importantly a large percentage of those funds were used to move the NCN transmitters from Sparendaam to West Demerara to make way for Pradoville II and this nation continues to tell its people that there is no money in the PPP budget to pay pensioners to live at least at the poverty level," she said.
"Mr. Speaker, the AFC promises to continue to work to make the Freedom of Information and Broadcasting Law more effective so that people in Region 10 can have alternatives to NCN on their TV spectrum, that existing TV stations will be allowed to expand their reach and to ensure that Guyana will no longer be the only Caribbean Country in which there is only one government owned radio station in 2012 when the average in other small islands is as many as 30," she said.
Hughes lamented that Help and Shelter received only $10 million in this year's budget but the government's propaganda machinery – GINA is to receive more than $111 million dollars.
"The question this forces us to ask is ….is the daily churning out of government propaganda a better use of scarce financial resources than an agency dealing head on, every day with an unacceptable epidemic that eliminates one of this nation's most precious resources…our women?"
Hughes noted that the sum of $200,000 is also listed in the estimates for the David Rose School.
"Mr. Speaker, the winds of change blew over this Parliament a few short months ago and they must continue. I say again, this budget must reflect what the people of Guyana say they need. We represent them and I say $200,000 for the David Rose School for children with disabilities and 285 million for overseas conferences and trips cannot be considered just. It must change," she declared.
Continuing, Hughes said, "Behind every child with a disability is a mother fighting hard to understand and cope with the additional challenges. Is this the best we can do? Is this the best support Guyana can offer these families?"
Around the Web