According to reports, sometime around 11am yesterday, Anthony Lawrence was riding his bicycle out of a street adjoining Latchmansingh Street, Tucville when he was struck down by the car, bearing registration HC 742.
The young man's right foot below his knee cap was almost severed while he bore a gaping cut to his forehead and other cuts across his hands and shoulders. He was subsequently rushed to the Georgetown Public Hospital (GPH) in an unconscious state by the taxi driver and other public- spirited citizens.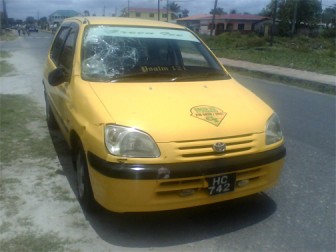 According to an eyewitness, Lawrence rode out of the street close to the Tucville Primary School and was heading in the direction of Aubrey Barker Street when he was struck down by the car which was heading in the opposite direction. The taxi driver told Stabroek News at the hospital that the young man rode out of the street and into his path and according to him, there was nothing much he could have done but apply his brakes.
Lawrence was flung into the air and landed atop the car's windscreen while his bicycle was damaged beyond repair. His father, who gave his name as Gibbs noted yesterday afternoon that his son's condition was stable and according to him, he was in a conscious state and was interacting with relatives.
Doctors were yesterday afternoon operating on his right foot.    The driver of the car was taken into police custody.
Around the Web