The Celina Atlantic Resort has come in for strong criticism from a United States-based Professor of civil and environmental engineering as it is built on a mangrove growing area and also poses a sea defence threat.
Guyanese Dr. Maya Trotz made the observation while chairing a session on Climate Change Adaptation- Educat-ing and Innovating for Tourism Sustainability, at the Caribbean Conference on Sustainable Tourism Deve-lopment yesterday at the Guyana International Con-vention Centre at Liliendaal.
Expansion of the Celina Resort in an environmentally sensitive area and the possible risk to sea defences have frequently been raised in Stabroek News but the government has ignored the matter. Parking for Celina customers is also now being permitted on the seawall embankment.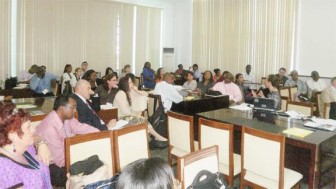 Responding to a query by the President of the Caribbean Tourism and Hotel Associa-tion Josef Forstmayr, who asked whether there is legislation in Guyana to fine citizens who commit crimes against the environment, such as destruction of mangroves, Trotz said that the wealthy are sometimes given preferential treatment.
"If we look along the coast, we have much more wealthy and powerful entities that build, where the mangroves should be, established places where we go and recreate. For example, at the Kitty jetty, the Celina Atlantic Resort is… while it is lovely and it brings you much closer to the sea, they are on the mangroves. So, I ask: Would that person be penalized in the same way as the poor person who went to cut mangroves for firewood to cook for their children?" asked the University of South Florida Professor.
Asked by Stabroek News to elaborate, Trotz said research has shown that destruction of the mangrove was due to persons who cut them for fire wood or to put brick roads in their villages.
She urged that authorities enforce the laws and regulations governing mangroves in a manner that takes into account the poor and the
powerless as opposed to the affluent and influential.
"These are the poorer parts of the population who can't afford to have gas to run their stoves or to cook their food; that would be the population you would be criminalising or putting in jail," she said.
She recommended that education programmes be instead put in place to sensitise the population about the usefulness of mangroves. "We just have to be very fair in terms of how we think of their livelihood," Trotz added.
She also cautioned that while many desire beach-front properties, the environmental cost in the long-run is heavier. Concern was also raised about the huge garbage pile-up around the city especially on the seawall. "I went for a morning walk at the seawalls and was appalled at the garbage I saw," another delegate said in one of the break-out sessions.
Around the Web