Demerara Distillers Limited (DDL) is hosting a Canadian team of food and rum enthusiasts here to tour its production plant to experience the making of the world famous El Dorado rum.
At a media briefing held on Friday, DDL Vice President of International Marketing Komal Samaroo said the six-member team is here for five days. The team is led by Jason Woodman, a director of Woodman Wines and Spirits, which is DDL's marketing and sales agent in Ontario.
Other members of the team are Margaret Swaine, food and travel columnist at the Ontario National Post and other magazines; Chip Dykstra, the founder of the web community "Spirited Discussions on Lunch;" renowned blogger for "The Rum Howler Blog," Carlos Catallo, as well as Anton Potvin and Jaime Drummond, who have a vast knowledge of rums.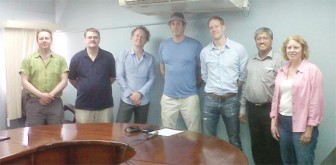 Woodman said DDL holds fast to its roots and despite the varieties and competition of spirits on the market, El Dorado continues to perform and demand continues to grow. He said the company even makes larger sizes of its product to meet demand. DDL continues to be the only distillery which uses the wooden Continuous Coffey Stills and the only one to use the Single and Double Pot Stills.
The delegation also planned to venture into the hinterland to see some of the country's flora and fauna. It was expected to travel to the Essequibo River and to visit the Kaieteur Falls.
Around the Web