Ahead of Orealla's village council elections, scheduled for next Monday, Minister of Amerindian Affairs Pauline Sukhai has urged residents to ensure that there is transparency and accountability in the management of the village.
At a meeting at the Orealla meeting hall, which also included residents from nearby Siparuta, Sukhai said that the PPP/C consults with citizens before making decisions and she expects the villages to incorporate these same principles in its decision-making processes. "It is very important for the residents of any village, young or old to always participate in the decision making or village activities, since togetherness will always breed success," she was quoted as saying in a Government Information Agency (GINA) report.
Sukhai and a team toured the Region Six community, whose main economic activities are logging, agriculture, sand mining and small-scale farming. The village comprises Arawaks, Warraus and Caribs and the minister noted that Amerindian communities countrywide are becoming financially independent as government continues to implement policies and programmes to transform village economies while sustaining traditional ways of life and surroundings. In this regard, she said the village council should always refer to the Amerindian Act which is a critical tool for the governance, accountability and transparency of their village economy.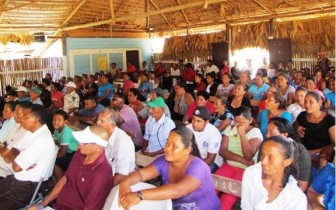 "The issue of village accountability is not a new one…I have been working in the field of Amerindian affairs for many years and, I must say that Amerindian communities have come a far way when it comes to being accountable," Sukhai said. She noted that achieving accountability was not easy but was due to "the pressures that were placed on the village management by its people."
"The residents of this village should always have meaningful engagement with the council because the management of the village economy is for the betterment of the residents…so the community has the right to know the financial position of the village, but at the same they should not abuse their rights," she charged.
Sukhai informed the meeting that the Amerindian Act stipulates that toshaos and village councils must be elected every three years and advised them to support elected officials for the betterment of their communities.
It also specifies who can run for office and stipulates that a person may not stand for election or be elected as a councillor unless he is an Amerindian of at least 18 years of age; is a resident in the village on the date of the nomination; has been continuously resident for a period of not less than three years immediately before his nomination provided that if a person has his principal home within the village, any absence from the village for education, employment or health care shall be disregarded in determining continuity of residence; and has not been convicted of a serious criminal offence, involving violence or dishonesty.
According to Sukhai, despite their remote locations, government has invested in primary education and has provided basic social needs for indigenous communities countrywide. In order to gain the maximum benefit, residents must be integrally involved in the process but Sukhai lamented that the relaxed attitude demonstrated by some persons will cause them to be left behind. "The village has great income-generating capabilities and you (residents) should work with the council and, at the same time exploit your indigenous knowledge and practices to promote your community to further expand your income generating activities," she said.
Around the Web