(Trinidad Express) The Director of Public Prosecutions (DPP) ordered that the charge of manslaughter be laid against the mother of two-year-old Aliyah Johnson, after it was found that the components needed for a murder charge were missing.
Candice Johnson faced the Siparia Magistrates' Court yesterday where the charge of unlawful killing was read to her.
Johnson, who stood before the court with her arms folded, was not called upon to plead to the offence which allegedly occurred on Easter Sunday at Maria David Trace, San Francique.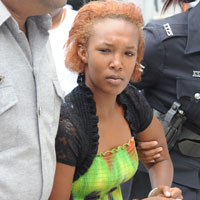 The young woman was charged by Acting Sgt Stephen Ragbir.
Johnson's appearance before Magistrate Jo-Anne Connor was brief yesterday when the matter was called around 9.25 a.m.
Johnson spoke once to correct her attorney who said she was 19 years old. She is 20.
Defence attorney Ramnarine Soorjansingh told the court his client was without a criminal record.
Police prosecutor Dridgenath Sookraj said the same and did not object to bail being granted.
Connor placed Johnson on TT$75,000 bail with Clerk of the Peace approval.
She ordered that the young woman return to court on May 14.
Johnson has been in custody since Aliyah's death last weekend.
She and her boyfriend, Ramdharry Ramjohn, 23, were questioned by police officers at separate police stations over the past week.
Around midnight on Saturday, Ramjohn was released and the DPP ordered that charges be laid against Johnson. A senior police officer said while it was expected that a murder charge would have been laid against Johnson, the DPP perused the file and found it was a case for a charge of unlawful killing.
An autopsy showed that Aliyah died from blunt force trauma to the abdomen which resulted in acute internal blood loss. The blow ruptured Aliyah's liver, causing her to bleed to death.
Although she bled through her private parts, the autopsy found she was not sexually assaulted.
Aliyah was laid to rest on Saturday.
Scores of on-lookers gathered opposite the courthouse yesterday, reading newspapers and discussing the child's death.
Several of Johnson's relatives were inside the Siparia First Court when the matter was called.
Ramjohn was not present.
In an interview with the Express on Sunday, Ramjohn confirmed Johnson's pregnancy.
Johnson was taken to the Siparia Health Facility after she fell ill at the Penal Police Station on Thursday. She told officers she was one month pregnant.
Following her court appearance yesterday, Johnson was taken to the Siparia Police Station while relatives worked on posting her bail.
Bail was not secured by her family and Johnson was remanded to the Women's Prison in Arouca.
Another attempt will be made for bail today.
Around the Web