Ambassador Robert Kopecky says the sustainable tourism development and fisheries management project the European Union (EU) is undertaking in partnership with Iwokrama in the North Rupununi is seeing tangible results as it nears completion.
According to a press release from the EU, it is providing €300,000, representing 90%, to funding for the project which started in December 2009. The remaining 10% has been provided by the Iwokrama Centre for Rainforest Conservation and Development. The project will end in June.
During an April 12-14 visit to the site with Iwokrama officials, Ambassador Kopecky, who is Head of the EU Delegation to Guyana, said he was "heartened to see tangible results of all the different programmes, which are the product of a lot of effort and devotion of real people, all this on the eve of the upcoming Rio+20 Conference due to take place in Rio de Janeiro…" in June this year.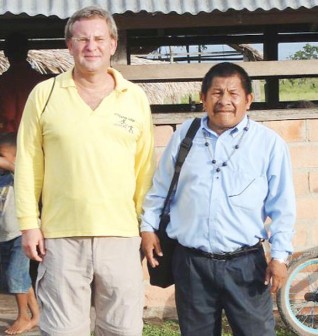 He also noted that the project is in keeping with EU global priorities in sustainable development and the environment.
The project is implemented primarily in six communities: Annai, Wowetta, Surama, Fairview, Rewa and Yupukari. It focuses on strengthening the organisational capacity of the North Rupununi District Development Board (NRDDB), which is the umbrella body for the 18 communities of the North Rupununi, the release said.
The key areas of activity are the enhancement of fisheries management by extending the North Rupununi Arapaima Management Plan to cover all fish species; enhancement of awareness and development strategies to manage three key areas in the North Rupununi – Upper Rewa, Pirara-Karanambu-Simuni and the Surama Conservation areas; enhancement of existing tourism products in Annai, Wowetta, Surama, Fairview, Rewa and Yupukari; enhancement of the international marketing of the Rupununi community tourism products; and building and establishing research and tourism networks, especially linkages to outside entities.
A manual was developed and management plans were drafted in consultation with each community to improve the fisheries sector in the six communities. According to the release, the objective is to establish sustainable fishing in the wetlands (rivers and lakes).
Fisheries in the community can be divided into three categories: community level, small scale and commercial-level fishing. Permits are necessary for the latter, the release said.
Workshops were held in the communities to create a better framework for fisheries, which defines fishing periods for certain species and explains new fishing techniques and methods. Three of the communities are involved in developing aquaculture in their villages, the release said.
According to the release, in the area of tourism, the major activity during the course of the project has been capacity building and the development of manuals in the area of financial record keeping, product development, services delivery, ethics and standards. Workshops were conducted in the villages and tourism business plans are being finalised. Iwokrama will continue to work with the communities beyond the close of the project to further build capacity.
Around the Web