Government met last night with the parliamentary opposition to iron out concerns about this year's $192.8 billion national budget and ensure that it is passed by the National Assembly and will be meeting again today prior to the commencement of the examination of the estimates.
Last night's meeting took place under the initiative and auspices of the Speaker of the National Assembly Raphael Trotman as he sought to have the parties work out a Modus Vivendi for the process of examining the estimates. Attending this meeting were Presidential Advisor on Governance Gail Teixeira, Prime Minister Sam Hinds, Leader of the Opposition David Granger and Alliance For Change Member of Par-liament Khemraj Ramjattan.
This meeting overtook an earlier one that had been called and set for yesterday, during a Parliament break but for reasons that are unclear did not take place. In the wrap up of the business of the National Assembly, Trotman, as he invited the MPs to the meeting in his Chambers, said that the country was at the precipice of either something disastrous if not handled responsibly or at the cusp of something great.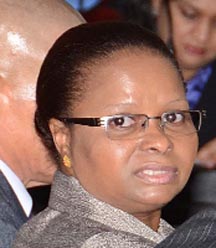 Speaking to Stabroek News last night, Trotman said that the parties will sit down today with a view to ironing out some of the sore points of the budget. He said that the decision to hold the meeting was an on the spot one that he took, aimed at giving the
parties an opportunity to sit and discuss prior to the commencement of the examination of the estimates.
The Opposition has threatened to bring out the "scissors" with a view to trimming away the excesses of the estimates.
Moments after the National Assembly reconvened yesterday for the continuing budget debate, Speaker Trotman said that APNU MP Volda Lawrence had earlier indicated that she wished to put an oral question to Finance Minister Dr. Ashni Singh without notice.
After Trotman gave his permission, Lawrence asked Singh whether he would consider meeting with representatives of APNU and the AFC to address "our concerns regarding the 2012 estimates to provide for a smooth passage in this honourable house."
Singh, in response, agreed to the request. But sources within the Government told Stabroek News that the meeting was not successfully held.
Earlier, Dr. Singh told the House that the PPP/C is "always willing to meet with and to receive from stakeholders views expressed on matters of interest and national importance." He said that when at the last meeting of the economic sub-committee,  established under the inter-parliamentary party dialogue forum, he had indicated that government was willing to consider any written submissions received on the budget. However, he noted, nothing was submitted.
Nevertheless, he said, pointing out his party's willingness to at all times engage the opposition, "we wish to indicate that we would be willing to meet with appointed representatives of the APNU and the AFC provided that the concerns alluded to by [Lawrence] in her question are documented in advance to aid productive discussions and provided that the schedule agreed to unanimously by the business sub-committee of the committee of supply only yesterday is still adhered to in its entirety."
Around the Web