Several hundred public servants today turned out to protest what they called 'AFC thieving' of their jobs in response to a motion by AFC MP Khemraj Ramjattan for cuts to some ministries' contract jobs.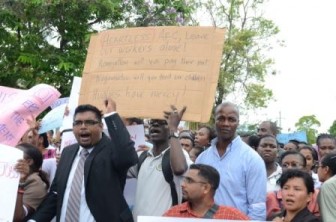 Several government ministers also joined the protest line of chanting workers, all of whom said that passage of the motion to be considered today would put them on the breadline.
There was a face-off between some of the workers and APNU protestors who were hollering 'we want jobs too, we fed up of the thiefing.'
Minister of Public Works Robeson Benn lodged a complaint with the police officer  on the ground stating that the APNU supporters should not have been allowed to join the public servants.
"They are controlling the streets," Benn said to the officer.
Around the Web