The old age pension will now be $10,000 per month from May 1st, 2012 following talks today at the Office of the President between a government team and the opposition.
The government team included President Donald Ramotar, Finance Minister Ashni Singh, Presidential Advisor Gail Teixeira, Head of the Presidential Secretariat, Dr Roger Luncheon and Prime Minister Sam Hinds.  The opposition team comprised  Opposition Leader David Granger and APNU MPs Carl Greenidge and Dr Rupert Roopnaraine. There was no representative from the Alliance For Change.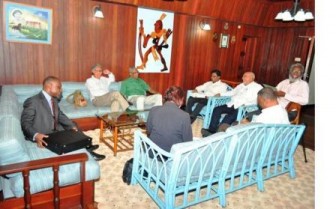 Singh made the announcement in Parliament this afternoon amid a day of chaos as to how to proceed with the consideration of the estimates of expenditure. It is unclear what impact the agreement on the pensions will have on how the opposition votes in relation to the budget.
In his budget presentation last month, Singh had announced that the old age pension would move from $7,500 per month to $8,100 per month from May 1, 2012. This increase had been soundly criticised by the opposition parties and members of the public. The figure will now rise by a further $1900. This pension is payable at age 65.
Following protests earlier in the day which disrupted the business of Parliament, consideration of the estimates is now underway. The AFC is expected to proceed with attempts to cut the allocations in various sectors. It is unclear if this attempt will win support from the rest of the opposition.
Around the Web