The Oldendorff Carriers Guyana Inc., contracted to ship bauxite for the Russian Aluminium Group (RUSAL) which is opening two new mines, may have to look at establishing another port to accommodate more ships.
Captain Zakaria El Dib told President Donald Ramotar during a visit to the operation at the Andrew Basin last week that the other port would enable two ships to be loaded at the same time.
He said too that the bauxite can be stockpiled on the barges so the ships would not have to wait a long time to load.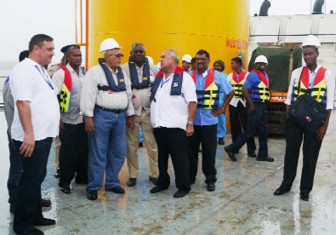 The president, along with Minister of Transport, Robeson Benn first had a tour of the Oldendorff compound at New Amsterdam and then at the transshipment port.
Captain El Dib said the company passed through a rough time when it was only loading two ships per month but it was patient and the time has come now for it to thrive.
The president also encouraged El Dib to look at the possibility of getting involved with the manganese company which is slated to begin commercial operations next year. He responded that the offer sounds "interesting and if we can do it we will."
Oldendorff Carriers, one of the world's largest private shipping companies, was awarded a major contract in 2006 with RUSAL to ship over two million tons of bauxite per year.
Captain El Dib had told this newspaper that the figure would be increased to more than four million tonnes per year. More employment opportunities would also be provided to add to the local staff of about 200.
RUSAL which owns the Bauxite Company of Guyana Inc (BCGI) at Aroaima, Upper Berbice River would be opening two new mines at Block 22 at Kurubuka and Block 38 at Cocrite.
It recently deployed US$21M worth of vehicles and equipment from its business in Jamaica.
President Ramotar told the media that he was impressed with the company's operation which "gives an idea of the great potential we have in the area of marine services that can be provided."
He said that "it speaks a lot about public developments that are to come in the Berbice area with the expansion of the production of bauxite."
The president noted too that when Oldendorff expands, "New Amsterdam would expand and Berbice as a whole would benefit greatly from the operation."
He said there is a strong confidence about the future of the country and noted that this is something that we have to build on to attract more investment to create more jobs.
According to him, "we have to prepare our people by training them and expanding education at all levels and having them ready for what I think is a bright future ahead." This includes other mining including manganese and gold.
He recalled that he had mentioned during the elections campaign that mining was one of the focus areas for future development of the economy.
The opportunities also exist for opening another sector in marine development where persons can be trained in marine services.
Minister Benn commented that there has been a very dramatic change to Oldendorff's operation which not only has an efficient set of equipment but the capacity to load over three million tonnes of bauxite.
He said the company "leaves the basis for a greater expansion of operations which is very encouraging. It improves safety and the type of cargo lifting capacity."
Around the Web