Minister of Agriculture Dr Leslie Ramsammy says he is disheartened after threats by opposition MPs to withhold support for the $75B capital works budget, saying they are misguided.
In his address on the budget last week, AFC MP Verasammy Ramaya said his party could not support the figure budgeted for capital works and his colleague, MP Moses Nagamootoo as well as APNU MPs  have expressed similar sentiments, Ramsammy noted in a statement.
"I am hopeful that this is not the position of the AFC or APNU. I reject the position of the AFC and APNU MPs and I would hope the AFC and APNU will consider their position very clearly," Ramsammy said. The minister noted that capital projects are usually financed through arrangements with international financial institutions, such as the IDB, World Bank, and donor countries or organisations, and funds acquired through these agencies cannot be directed away from the projects.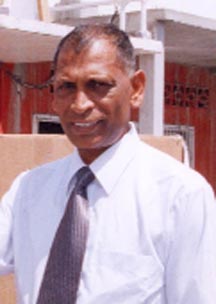 "These capital projects are projects that our international partners and Guyana have agreed to and the financing [is] targeted. Such resources cannot be directed away from the projects as the opposition MPs want us to do. Such funding cannot be utilised to support salary increases, pay pensions etc. If we do not want to proceed with the projects, the funding arrangements are terminated," he explained.
Ramsammy noted that the capital budget is to ensure that much needed infrastructural projects are supported. "Do we need to build roads such as the Black Bush Polder and the East Bank Berbice road? The Relief Channel at Hope? The Relief Channel for Johanna? Black Bush Polder? The Relief Channel at Canal Polder? Do we need to put fixed-site drainage pumps at Rose Hall, Albion, Allness, Black Bush Polder, Windsor Forest etc.? Do we need to construct farm-to-market roads?" he asked. "Do we need to extend our highways? Do we need more transmission lines to take electricity to those communities without electricity? Do we need to build schools? Do we need to build hospitals and health centres? Do we need to construct community roads? Do we need to prepare more housing schemes? Do we need to open up more lands for agriculture?"
The minister further suggested that MPs Ramaya, Nagamootoo, Carl Greenidge, Basil Williams, Trevor Williams, Cathy Hughes "and all the others, from APNU and AFC …tell the people they will not support these projects and would rather Guyana never have access to these funds." Ramsammy argued that the opposition must understand that these projects create jobs and without supporting for them, jobs are threatened. He noted that the MPs have spoken about the need to create more jobs and "On the other hand they want to vote against job-creation that results from these projects."
According to Ramsammy, government believes that the opposition's motive for rejecting the budge is to "suffocate development in our country to help them gain power." In response, he said government plans to continue to proceed with development programmes, including job creation.
The minister said this in no way means that there will be a slackening of the rigid and robust monitoring and evaluation agreements to ensure value-for-money. Government continues to be concerned about work not being completed on deadline and that several projects have in fact experienced considerable delays. "We concede too that the quality of work by some of the contractors is questionable," and acknowledge the need to strengthen the tendering process, he said.
He also noted that many of the capital projects have provided opportunities for workers in the private sector and rejected the opposition's portrayal of it as "a greed machine." Ramsammy said prior to 1992, there were few private sector construction firms owned by Guyanese and operating in Guyana.
The administration will continue to improve systems to ensure the timely delivery of projects and a higher quality of work, particularly since President Donald Ramotar had indicated to Parliament and the Cabinet that he wants greater scrutiny of contracts, he also said. Ramotar has also been on record advising the National Procurement and Tender Board to be more rigid in evaluating tenders and ensuring that contractors meet specified quality standards and deliver on time.
The Public Accounts Com-mittee of Parliament failed to submit nominees for the appointment of the members of the Procurement Commis-sion, he said, adding, however, that party leaders have agreed to discuss and resolve the issue soon.
According to Ramsammy, the PPP/C is also dissatisfied that the opposition keeps echoing concerns that government itself has expressed, and is addressing. He said the administration has employed an approach to balance budgetary allocation to advance economic development while also meeting the social welfare needs of the nation. "We reject the approach which commits our budgetary allocation to only economic development or only to social welfare needs," he said. Almost 35% of the budget has been committed to the social sector though it is still pressing forward to build health, education and other infrastructure, he noted.
Around the Web