The US Embassy says three Guyanese girls who benefitted from a leadership camp, hosted by the US Peace Corps' Gender and Develop-ment Task Force, have been using their newfound skills to raise suicide awareness, organise a clothing drive and motivate people to get active to stay healthy.
With limited resources at their disposal, Alexie Stoll, Triveina Drakes and Adelie Jones used their skills and newfound sense of empowerment to complete the projects, the Embassy said in a press release. They were among 25 young women from six different regions who participated in Guyana's premiere Camp GLOW, a girls' leadership camp hosted in December by the US Peace Corps's Gender and Development Task Force in collaboration with other local organisations.
Camp GLOW, an acronym for Girls Leading Our World, aimed to instil leadership skills and empower these women to make a difference not only in their own lives but in the lives of members of their communities. One month after attending the Camp, all the girls were given challenges to implement the skills they had learned at camp to make a difference in their communities.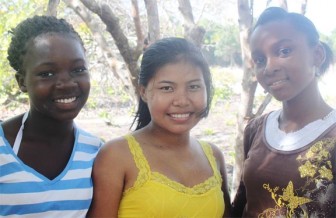 Stoll, Drakes and Jones not only stepped up to the challenge but far surpassed anyone's expectations, according to the Embassy. The women sent over 150 text messages, encouraging their peers to know that people cared about them and to seek help if they are experiencing bouts of depression or thinking of suicide.
Next, in order to encourage and help persons less fortunate than themselves, the girls organised a clothing drive and collected over 200 articles of clothing for Essequibo NGO Hope for All.
For the final challenge, the young women were asked to exercise and to encourage others to join them. Drakes set up a cricket competition at her school and Stoll organised an exercise class and "bush cook" event for children in her village.
"These three young women prove not only that youth can make a difference in their communities but that female youth can be leaders and change the world around them if given the opportunity and skills," the Embassy said. The Peace Corps Gender and Development Task Force truly believes that the future of Guyana will be greatly impacted by the empowerment of its young women, it added.
The public is invited to visit the website www.campglowguyana.com to find out how to submit applications for young women ages 13-17 who could benefit from the sessions. Further, for more information the public is invited to email guyanagad@gmail.com.
Around the Web