Foreign Affairs Minister Carolyn Rodrigues-Birkette on Tuesday said that Guyana is hoping to increase cooperation with Brazil to a level on par with what has been achieved with Suriname.
During her contribution to the budget debate, Rodrigues-Birkette said that the country's continuous cooperation with neighbouring countries is important for national development and economic growth.
Rodrigues-Birkette, who missed most of the debate due to official duties overseas, said cooperation with Brazil is continuing in several areas, including military cooperation and agriculture. She said that the two countries have agreed to share information to help combat organised crime and to improve joint border control mechanisms.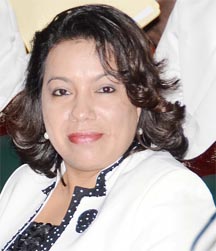 "I notice that a lot was said about that by [APNU MP Debra Backer] and perhaps because we don't do a lot of drum rolls and so when these things happen, the people might not be aware of all we are doing," she stressed adding that when it comes to security "you can't always advertise what it is that you are doing."
She also disclosed that there have been accelerated discussions with Brazil on paving the Linden/Lethem road and the construction of the deep water port in recent months. Both issues, she added, will be raised in a few months when the president is slated to visit that country.
She reminded that the two countries have signed an agreement for hydro-power and work is progressing on a feasibility study. "We need the road and port. Brazil needs energy and I think that we can have some arrangement in that regard," she noted.
Rodrigues-Birkette also reported a new relationship had blossomed between Guyana and Suriname within the last three years, with cooperation in the areas of combating crime, embracing public security, agriculture, climate change, and forestry, among others.
The return of Surinam Airways, she said, is no coincidence, but another step aimed at improving transportation between the two countries. The minister also noted that Agriculture Minister Leslie Ramsammy is working with his Suriname counterpart to have harmonised fishing regulations, which will, in part, help with the fight against piracy.
She also mentioned the building of the Corentyne River bridge, saying it would further strengthen the relationship between the two countries.
Addressing Venezuela, Rodrigues-Birkette said a number of rice deals have been signed while noting that rice represents a major factor in the country's growth and development. The last agreement was for US$153 million in 2011 and under this contract 20,000 tonnes of rice and 50,000 tonnes of paddy would be exported to Venezuela.
"This activity has helped to significantly add to our foreign exchange reserves but also to the reduction of debt which would have otherwise accrued because of an importation of petroleum and petroleum products from Venezuela," the minister said.
Importation of urea from Vene-zuela to meet the needs in the sugar and rice industries is also being looked at, she said, adding that the Venezuelans have since indicated an interest in buying building materials from Guyana.
Earlier, Rodrigues-Birkette stated that her ministry continues to focus on "the protection and consolidation of our sovereignty and the preservation of territorial integrity." She said that the promotion of economic and social development is also among the ministry's top priorities, while stressing that the necessary steps have been taken to ensure that our internationally-recognised boundaries have been respected.
Rodrigues-Birkette reminded that last year Guyana completed its submissions for an extended continental shelf under Article 76 of the United Nations Convention on the Law of the Sea. She noted that by taking that step, the country had taken the necessary action to safeguard its rights and interests beyond the outer limits of the 200-nautical miles Exclusive Economic Zone.
Around the Web