In a protest over the planned increase in power tariffs, the mining town of Linden shut down for the day yesterday and hundreds of protesters poured into the streets to condemn the  government plan announced in this year's budget.
The government's position on the increase was further solidified by Prime Minister Samuel Hinds during his presentation on the budget speech last week and this gave rise to residents of the community taking to the streets in protest.
Yesterday was considered a "shutdown" day, another stage of residents' protest action against the proposed tariff hikes. A drive through the town early in the morning revealed full support for the call. With the exception of the Linden Hospital there was not a single entity open. The six ferry services which ply the two shores of the Demerara River were all out of operation. No round-the-town transportation or Linden-to- Georgetown buses or taxis was working. Services were expected to resume yesterday at 6 pm.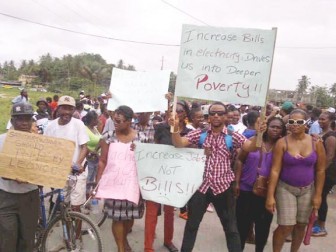 In the morning there was a heavy police presence traversing the two shores and pockets of persons were seen at strategic locations with placards. At some businesses a few workers were seen dressed in uniform but were prevented from entering their place of work since the gates and doors were all locked.
Schools were also affected by the shutdown as teachers didn't show up and just a few students were present. A number of students were seen returning home.
As the morning wore on, residents on the Wismar shore converged at the Linden Utility Services Co-op Society Limited (LUSCSL) and marched to the Winifred Gaskin Highway Junction at the Silvertown area.
Another large group which moved from the One Mile area joined them, forming a sea of residents who peacefully marched across the Mackenzie-Wismar bridge where there was a heavy police presence guarding the passage.
"We peaceful we ain't ready fuh block bridge. We going through sending a message." said one protestor to police officers.
Conversation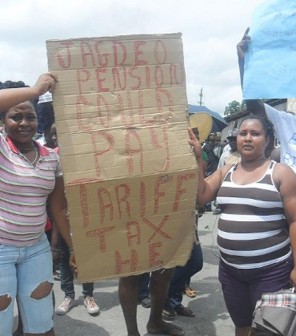 The conversation among the protestors along the way varied. One vendor said that the situation in Linden is unique to the rest of Guyana. He said that for many years resources from Linden fed the rest of Guyana especially in the area of electricity. "Is God that got we standing, look dis dust we inhaling, look how deh OMAI and deh others come and pull out we resources and lef we and this government just keep failing to stand up for us. Now they giving we a second dose of deh gift."
Another said that regardless of which region a party votes for, once placed in government, "you are the servant of the people all deh people and what deh doing is obvious to spite we and it ain't gon happen…"
"NCN must go, Increase in electricity bill drive us deeper in poverty, Create employment bring back LEAF to give real small business loan and Stop the punishment of the Linden people" were some of the slogans carried on placards.
The protest was supported by residents from across Region 10, Ituni and Kwakwani included. Several busloads of residents joined in.
The crowd grew larger at the Mackenzie Five Corner where they were joined by another large group of residents from Mackenzie. The protest moved through independence Avenue into Purple Heart Street, then onto Republic Avenue and assembled at the Mackenzie Bus Park at the Market Square where they were addressed by regional leaders.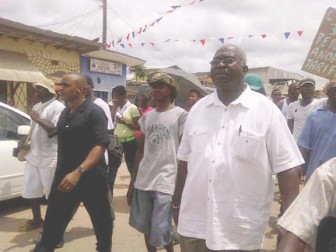 Among the leaders spotted in the demonstration were Region Ten Chairman Kuice Sharma Solomon, Vice Chairman Byron Lewis, former Region Ten Chairman Mortimer Mingo, trade unionists Lincoln Lewis and Charles Sampson and PNCR member Aubrey Norton among others.
The protestors were addressed briefly by Solomon, Sampson and Lewis. Chairman of the Linden Civic Society (LCS) and supporter of the PPP/C Dennis Muhammad joined the protest at Mackenzie however when he attempted to address the crowd he was greeted with an outburst of anger and boos. "Is people like them dah got we in dis mess hay now, we aint want hear nothing from you," "get out deh place man yall is sell out go back and mek deh reverse dah decision don't come fuh tell we nothing" were some of the remarks hurled at Muhammad.
There were those who attempted to calm down the crowd but their efforts were in vain. "We got to stop dis thing now this is a Linden thing and is time we come together in dis struggle," said one protestor. Regional Chairman Solomon pleaded with the crowd to put petty politics aside so that the issues could be focused on. "This is not a APNU, AFC or PPP thing this is something that would affect all of us" said Sharma in his attempt to enable Muhammad to speak. Another protester opined, "dis is wah deh PPP want, deh want see we divided don't let us mek deh win."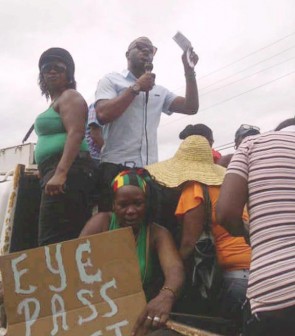 The PPP/C supporter was only able to push in the words "We should cry shame on those persons who didn't come out to support this movement here today." before he was rudely interrupted.
In his address Solomon reiterated his stand against the 2012 budget presentation touching on the issues of Value Added Tax, old age pension and public assistance. "Those are the issues, the real issues they must address not to come and tell us about removing of subsidy for electricity. We have to address these issues before we can even think of removing the subsidizing of electricity", he declared.
According to Solomon, Region 10 is faced with 70% unemployment coupled with the hardship of health complications from the dust emitted from the bauxite industry. He contended that "Anybody doing business with cough medicines and treatment for respiratory infections stand to reap good profit in Linden."
Supported by trade unionists Lewis and Sampson and other speakers Solomon accused Prime Minister Hinds of not showing solidarity with Linden.
"You must let Sam Hinds know that he would not be welcome in this town unless he convinces Jagdeo and Ramotar to put a freeze on that decision, only then he can be welcomed in Linden", said Lewis. He also said that Hinds would not be allowed to integrate Linden on the GPL grid.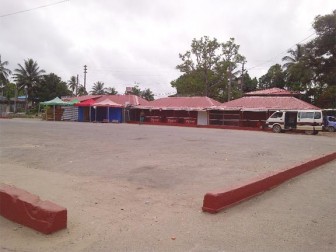 Lewis said that the subsidy the government has been paying for electricity was duly earned by residents and their fore parents through sweat equity. He emphasised the point that over the past decades the PPP/C led government has been toying with residents of Linden with faint promises. He reminded residents of the promise of the leaders to make Linden the Industrial Corridor of Guyana and the bread basket of the country. "These were faint promises, where are these things that they keep promising." He urged residents to stand strong on the protest against the government's decision and not to relent.
"We at the Co-op (Linden Utility Services Co-op Society LUSCSL) would not allow Sam and his cronies to come and try to take away this society from the four thousand-odd members. "We are prepared to defend you residents to the fullest in this regard, you see how these people bareface and devious", Sampson charged.
Following the meeting, residents continued the protest to keep all the commercial services closed. They converged along Republic Avenue. Here they kept themselves lively with various forms of entertainment. They used old video cameras and laptops, making mockery of the Jagdeo One Laptop Per Family programme. "Tek back yuh laptop and geh we we light." With the cameras they sent a message that they need access to additional TV stations.
In an advertisement in yesterday's SN, PM Hinds said: "The incorporation of the Linden area into the national electricity grid was advocated decades ago. It is a natural step in the growth and development of Linden. The merger of all service areas, and the incorporation of Linden into the national electricity grid, is the final step in the journey of citizens of Linden, and Linden, itself from being all just bauxite employees living in a bauxite town, to self-sufficient Guyanese living in the second town in Guyana".
He noted that from July 1 this year, Linden customers are being asked to pay only half of what customers in Bartica, New Amsterdam, Georgetown, Corriverton and Anna Regina have to pay.
He also said that Linden domestic customers consume over two times what domestic customers (including pensioners) consume on the GPL grid.
"The very low cost of electricity in Linden has long prevented any incentive for customers in the mining town to reduce energy consumption, with the consequent reduction in billings. There is potential for significant reduction of consumption by Linden consumers, towards the averages in the GPL grid.
"Far from what provocateurs and detractors in the opposition say, beyond this particular subsidy, which averages $17,000/month ($204,000/year) per domestic customer, Linden has been sharing equitably in what the government has been able to provide to citizens all across Guyana – improvements in roads, in schools and in schooling, in hospitals and in health services, in modernizing the traditional economic sectors, and in encouraging and enabling new and emerging sectors. Linden has not been forgotten, nor has Linden been lagging behind!
"This government has handled the challenges of transforming and modernizing an old, loss-making bauxite location, sensitively, injecting over $3 billion to meet shortfalls in the provisions of the bauxite operations that it inherited, shortfalls in workers' savings schemes, NIS payments, PAYE and pension payments, and in meeting termination benefits of workers, as the previously nationalized bauxite companies were wound up. Government is heartened that the refashioned bauxite companies, with leading international partners, are looking again to sustainable, profitable operations and expansions", Hinds said in the letter.
Around the Web