Truck driver Jadesh Dass, whose body was found with what appeared to be a huge gash to the head, suffered two gunshot wounds at close range to the right side of his temple and his forehead, a post-mortem examination has revealed.
The 32-year-old man, of Chelsea Park, Mahaica, East Coast Demerara, was found lying a short distance away from his truck on New Road, Mosquito Hall, East Coast Demerara, on Tuesday morning around 2am.
It was speculated that he might have been hit to the head with a heavy object by his assailant(s). Robbery has been ruled out as a motive, since relatives found Dass' money and other belongings intact.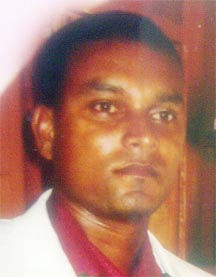 The dead man's mother, Sookranie Dass, yesterday told this newspaper that the results of the post-mortem examination came as a shock, since she had not considered the possibility of her son being gunned down. "I didn't suspect gunshot at all because of how the head was, it didn't look so… we thought somebody lash he in he head," the woman said.
She further refuted reports published in other sections of the media claiming that her son was having an affair with a married woman, which may have led him to his death. "All kind of rumours you hearing now… that he was with this woman and that woman, but it is nothing like that… he is not a man like that," she said, noting that his wife died almost two years ago in an unfortunate mishap.
"He wife de get burn up… the kero stove de flare and burn she up and she spend about eight days in the hospital then she dead. The two of them used to live good," Sookranie said, adding that since his wife's death, Jadesh moved back into her home.
She further stated that persons in the village have also suggested that her son stole a sum of money from a man who was held by police. The man was identified as the brother of the truck owner for whom Dass worked.
Both the owner and his brother were questioned by the police in relation to the murder and Dass' relatives were uncertain whether they were released afterward.
Sookranie explained that the family shared a close relationship with her son's employer but he has not yet visited the home to offer condolences. His wife instead, she said, visited on the morning of the discovery in an attempt to comfort her.
The woman said she has very little interest in the investigation of the police and, as a result, did not visit to inquire if there were any updates in the matter. She has started plans for her son's cremation, which is expected to be done on Friday at Good Hope, on the East Coast.
"Me nah able, meh son done gone. Wah me gon do? If I go to the police station they might tell me I got to hire lawyer and all of that and I don't have money," the woman stated.
Around the Web