The Linden branch of the National Library hosted its second annual Regional Authors' Fair awards ceremony, which is the realisation of a collaborative project between a Peace Corps Volunteer and the Region 10 Department of Education.
According to a press release from the US Embassy, the ceremony started as a dream of Timothy Tibbs, a volunteer at the Department, and Region 10 Literacy Coordinator Ava Chapman, who "worked tirelessly to create this friendly competition for primary and secondary school students to submit original poems and short stories and receive recognition for their writing." Both educators are passionate about reading and writing and hoped to promote literacy, especially creative writing, in schools in the region, it added.
In her address at the March 27 ceremony, Chapman told the audience, "Books can take you around the world and back again. When you read, you are guaranteed to have an adventure." It was clear that the participants took this message to heart, as after the winning students read their stories and poems aloud to a rapt audience, the others quickly assembled around the display board to read all the pieces that had been posted.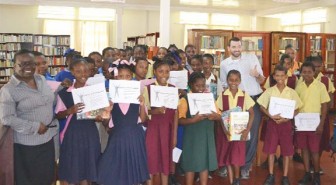 Chapman also noted that the far-reaching effect of the love of reading and writing was evident in all of the students' entries. She said the Author's Fair is now recognised as an annual event and she hopes to get even more entries from passionate young authors next year.
According to the release, this year had 50 applicants from schools throughout the region; 18 more than the 32 that participated in the premiere event in 2011. The Department was particularly pleased to have received entries from the remote communities, with one riverine community student even winning first place in the poetry category.
Meanwhile, in his presentation, Tibbs said he was proud that his efforts with the Department of Education had created an opportunity for children to express themselves creatively and be rewarded for their work. Also, several of the young authors and their teachers participated in the awarding of prizes and by the close of the ceremony many students opted to join the library.
Around the Web