A post-mortem examination performed on the remains of taxi driver Balram Jadoonauth by Dr Nehaul Singh revealed that he succumbed to a perforated lung and liver due to gunshot wounds.
The 24-year-old taxi driver was gunned down execution-style in front of his Dennis Street, Campbellville home on Sunday last and relatives suspect it was the result of a triangular affair. He sustained three gunshot wounds, one to his left shoulder and two others that punctured his liver and lungs.
When contacted yesterday Jadoonauth's father Lomash Jadoonauth told this newspaper that the man suspected of murdering his son remains in police custody and that he is hoping that he will be charged with the capital offence of murder as soon as possible.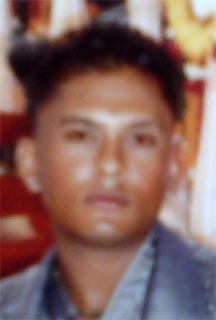 The elder Jadoonauth said that since his son was fatally shot the woman with whom he had the affair says that she does not believe that her husband is capable of committing such an act and she stands by him.
Jadoonauth will be laid to rest today.
Jadoonauth was said to have had an affair with a young woman who was married and as a result her husband began threatening him.
The suspect was taken into police custody at the Cheddi Jagan International Airport, Timehri a few hours after the murder.
Around the Web