Although she was allegedly beaten unconscious with a hammer by her partner, Eurika Garraway yesterday said that she still loves him, still believes he will change and that she will stand by his side.
Garraway, 38, to the shock of her family, has vehemently defended the now wanted man, Joseph Taylor, saying that while he beat her, she was not hit with a hammer and was never rendered unconscious.
"I asked him what got up in your head to do something like that to me and he say he don't know but me ain't gat to lie, I ain't see what he use on me because my eyes was closed but I know it was not a hammer Taylor used on me," Garraway said.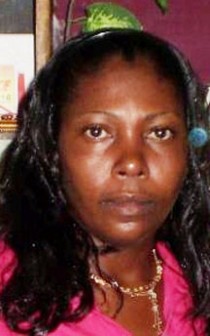 Garraway was beaten at her niece's home at Non Pareil, East Coast Demerara, after she relented and opened the door to her partner, who had threatened to break the windows if she did not let him in.
"Taylor did not hit me with a hammer I know that for sure …he told me it was the handle of the knife he had in his hand," she added, when pressed by this newspaper to explain her injuries, which are consistent with being dealt heavy blows with a hard object.
Detailing the events of the day which resulted in her being admitted to a private city hospital for over two weeks, Garraway said they were standing in their kitchen and the man must have hit her, since she felt weak, lost her balance and fell. "I didn't see what he was hitting me with nor even realised my head burst, 'cause after he beat me and gone I went and lie in the bed and then floor and suh a deh and was crying," she recounted.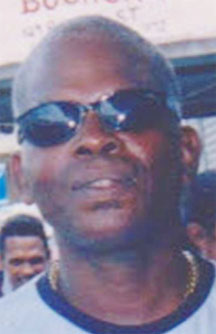 She added that when her family came and found her in the pool of blood on the bed, she was lucid and even remembers being taken into the taxi and hospital.
When asked about the reports that she and the man had a rocky 12-year relationship that resulted in several instances of violence, with many leaving her incapacitated, Garraway sprung to her partner's defence. "This is the first time he hit me so hard. Is 12 years me and Taylor deh and he never hit me so hard… I mean, he would slap me or cuff me in me belly and suh but nothing hard to talk about, 'cause I could stand up to Taylor like a woman," she said.
Betrayal
But Garraway's relatives yesterday maintained that she is an abused woman and that she should sever ties with the man since she could face dire consequences in the future.
One close family member, who was told of Garraway's defence of the man, said that she was in shock and felt betrayed. She added that the woman's present actions is pushing her family members away from her as they feel they would have wasted their time going to her aid. "It's over $300,000 we would have spent in hospital bills and agonising days and nights praying that God keep her alive. To now hear she gone and do this! All I can say is next time deh she best pray now, 'cause I wash meh hands," said the relative.
Another close family member reasoned that the head trauma suffered in the recent attack has caused Garraway to lose her memory and that she "is not herself." She echoed most of the other relative's anger and feelings of betrayal. "God forbid that it should happen again," she said.
In response, Garraway explained that it was only one person who assisted in paying her bills and that she was remorseful that her family came to her aid. . "It is why I don't like my family to do nothing for me. They do and then they talk… whoever want to talk this or that, that is their problem, I telling them keep out," she said.
The woman informed that she will be "standing by her man" as they both pursue avenues to prevent him from being possibly charged with attempted murder as a result of the attack on her. "Taylor said he love me and he will change and I believe him is 12 years, not 12 days," she declared.
Police on Monday issued a wanted bulletin for Taylor for questioning in relation to the attempted murder of Garraway.
The man is 44 years of age and his last known addresses are Lot 155 Prashad Nagar, Georgetown and 111 Block '12', Non Pareil, East Coast Demerara.
Around the Web