Caricom Auto Sales manager Ramwattie Ramlochan appeared in the Georgetown Magistrates' Court yesterday on additional embezzlement charges and was placed on $150,000 bail by acting Chief Magistrate Priya Sewnarine-Beharry.
The 35-year-old defendant of Lot 1211 Newtown, Enmore, East Coast Demerara, appeared at the Georgetown Magistrates' Courts to answer to another charge of embezzlement of funds belonging to Caricom Auto Sales.
The court heard that Ramlochan being employed by Caricom Auto Sales on June 27, 2011 embezzled $960,000 which were monies entrusted to her. According to Police Prosecutor Sergeant Lionel Harvey the accused was employed with Caricom Auto Sales as a manager and was required to accept monies.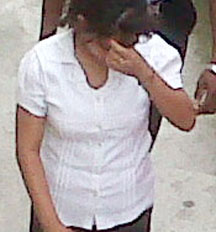 When she fulfilled this part of her duty she recorded the sum of money collected in one book but failed to do so in another which was required.
He also stated that she is facing two other charges in the magistrates' court and although she was granted bail in those matters he objected to her being put on  bail yesterday, stating that if the amount she is now accused of embezzling is added to the previous amounts it becomes a larger sum, therefore there is  need for her to be remanded.
Harvey's objection also came with a request for the matter to be transferred to the Vigilance Magistrates' Court. Representing Ramlochan were attorneys-at-law Hukumchand and Clarissa Riehl.
They argued that Ramlochan should be granted her pre-trial liberty on the grounds that she was before the court and had honoured all the conditions set out by the court even though she was dealt with inappropriately by the police on one occasion  when she reported to them as directed by the magistrate. Since her first hearing she has lodged her passport with the court to render the argument of her being a flight risk invalid, and  she continues to have a fixed place of abode and although she is out of a job her bail could be funded by relatives.
The prosecution's objection was overruled.
Around the Web