(Trinidad Express) Popular TV6 "Crime Watch" host Ian Alleyne was last night arrested by police on the compound of Caribbean Communications Network Ltd (CCN), Independence Square, Port of Spain.
He had just completed the airing of his programme when he was informed that police were on the premises with instructions to arrest him.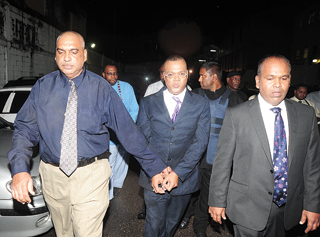 Alleyne's attorney Om Lalla said they received notification that the police had an interest in Ian, but later found out it was their intention to arrest his client.
"In spite of our request that we would meet them at the police station they have refused and the instructions are that he's to be arrested. We will cooperate but again, it does seem to be an abuse of process", Lalla said.
He added that if the arrest had anything to do with the airing of a tape showing the rape of a 13-year-old girl on Alleyne's programme several months ago, they expected the matter to be handled differently as both CCN lawyers and Alleyne have indicated their willingness to cooperate and are still prepared to do so.
Alleyne was handcuffed by members of the Port of Spain Criminal Investigation Department (CID) in the CCN car park and eventually taken away.
A large number of Alleyne's supporters gathered outside the Charlotte Street entrance to the compound voicing their disapproval.
Around the Web