Acting Chief Magistrate Priya Sewnarine-Beharry on Tuesday imposed two three-year sentences and a fine of $75,000 each on two Brazilian nationals after they pleaded guilty to firearm offences committed in the  North West District.
Josea Dos Reis Duart and Obdailson Gomes Fietas pleaded guilty to separate charges of unlawful possession of a firearm and unlawful possession of ammunition when they appeared before the Georgetown Magistrates' Court.
The magistrate later sentenced them to three years on each of the charges and she said that the sentences  will run concurrently.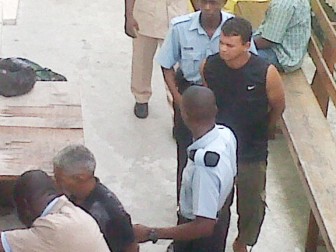 During the proceedings the defendants communicated to the court through the use of an interpreter. The court heard that acting on information, on April 13 at Lima 5 Star Backdam, North West District police conducted a search on Duart and he was found to have in his possession one 16-gauge, single-barrel shotgun and three 16-gauge cartridges without having a firearm licence.
On the same day and at the same location, police also searched Fietas and found a firearm and matching ammunition hidden in his crotch.
The magistrate asked both defendants if they understood that they would have to serve time in prison for the offences and they both responded in the affirmative but refrained from further comment.
Around the Web