A young man, who was injured when a tree branch fell on his head as he was conducting surveying works in the interior, was yesterday medivaced to the city by the Guyana Defence Force (GDF).
According to a press release from the GDF, the injured Mark Gonzales, 18, was transported from Kuribrong to the city, where he is now a patient at the Woodlands Hospital.
The GDF said it received a call sometime around 2pm from JAPARTS, the company which subcontracted the Mohabir Surveyors organisation, which employs Gonzales, and it was informed that medivac help was needed.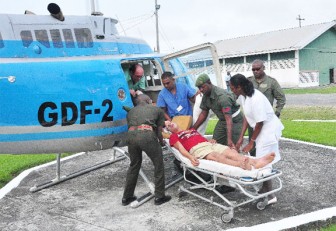 A helicopter, under the leadership of Major Courtney Byrne, immediately departed the Base Camp Ayanganna for the interior location to conduct the rescue mission.
The army informed that the young man was part of a survey team engaged in cutting lines for mining blocks in the Kuribrong area, in Region Seven. He fell to the ground after a tree branch struck him on the head.
Gonzales was listed in a stable condition when he arrived at Camp Ayanganna, before being taken to the private city hospital for further treatment.
Around the Web