Upset over being remanded to prison, a man accused of assault yesterday inflicted severe injuries to himself at the Georgetown Magistrates' Court.
Denzel Kitsu appeared before acting Chief Magistrate Priya Sewnarine-Beharry on charges of unlawful assault and using threatening language.
Kitsu, who pleaded not guilty, begged the court not to remand him, saying that while he had been convicted numerous times since he was a teenager, he was now a father and was trying to live right.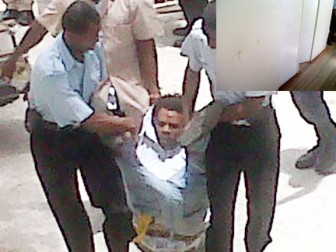 But when the magistrate stated that he would be remanded until the matter is called again next week, the man immediately began to shout and hit his head against a table in the courtroom before dropping to the floor. As he was being taken away, he repeatedly hit his head against the wall of the courtroom, leaving indentations and blood spatters.
Kitsu refused to walk out of the courtroom and had to be lifted out by police officers.
He said that he rather die than go to jail. He was later rushed to a medical facility to be examined by a doctor, while the magistrate later ordered that he undergo a psychiatric evaluation.
According to the particulars of the charges against Kitsu, as read by Prosecutor Police Corporal Denise Booker, on April 18, 2012, Kitsu went to Curtis Thom's home and cuffed him to his face and then chased him with scissors. She said Thom ran into his neighbour's house and picked up a knife and subsequently chased Kitsu to the East Ruimveldt Police Outpost, where he made a report.
According to Booker, at the outpost, Kitsu said that he would kill Thom and like at the court, when he was arrested he began to hit his head, causing himself injuries.
Before his episode, Kitsu said that Thom was the original aggressor in the matter between them and that he was glad the matter was before the court so that the magistrate could put an end to it.
He later pleaded for bail and noted that he had three children depending on him. Booker, however, objected to his release, while citing his behaviour, among other issues.
Around the Web