The dentist who extracted the tooth of a man, who later died at the Georgetown Public Hospital of haemorrhaging and a blot clot in the brain, believes his life could have been saved if he had seen a specialist while admitted to the facility.
Dental Surgeon Dr Ruben Mercado, of the C Persaud (Anand) Dental establishment at Peter's Hall on the East Bank Demerara is rejecting claims by the relatives of Lawrence Gopaul, 24, of Lot 17 Hague Railway Line, that the man's death was linked to the extraction.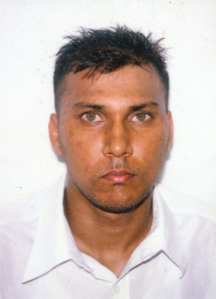 Gopaul died nearly two weeks after his tooth was pulled and a post-mortem examination performed on Friday revealed that he had died of haemorrhaging and a blood clot to the brain.
"In my 20 years of dentistry I have never seen a case like this. If you have someone admitted to a hospital and requiring so much blood there must be a reason. I don't feel enough was done. They should have investigated and have a maxillofacial specialist see him to see if the extraction was the cause," Mercado said.
Relatives of Gopaul were adamant that his death was linked to the extraction. The young man visited the dentist, on April 4, complaining of toothache. They produced text messages between Gopaul and his Canada-based aunt about  the man's pre and post extraction symptoms.
In the text messages, Gopaul stated that he had visited the dentist to pull "a jaw tooth" which was causing him excruciating pain. He had related that after returning home that evening he experienced profuse bleeding from the gum. This was substantiated by his mother Bagwattie Gopaul who said that it was she who took him to the Cottage Hospital at Leonora because she was concerned about the amount of blood she had seen him lose. There, he was given an injection to stop the bleeding and was sent home.
"When the boy come home is so he bleeding plenty plenty. He mouth nah done bleed and I got frighten and took he to de hospital that night," said his mother.
However after realizing the next day that the bleeding was continuing she took him back to Dr Mercado's office where he prescribed amoxicillin tablets. This, too, did not seem to work and they visited another doctor at the West Demerara Regional Hospital. He was once again treated and sent away.
Given that the weekend immediately after the extraction was a holiday, the relatives said, they waited and analyzed the situation as they prepared to visit yet another medical facility the morning of April 10. That facility referred them to the Georgetown Public Hospital as the man had lost a great amount of blood. At the GPH emergency room, he was given four units of blood and saline solution since they were told that he was anaemic also dehydrated.
His mother said she was angry that from the time he was admitted to the public health facility to his death last Monday a doctor was yet to speak to her on her son's medical condition and possible cause of death. She said the nurses in the ward were also very rude to her and their behaviour intensified after the young man telephoned her on the eve of his death, telling her that he felt he would not live and wanted to see her before it was too late.
She said when she rushed down to the hospital she was told by security guards that it was late and she could not see the young man. However, his aunt forced her way through and went into ward where she found Gopaul under a bed in a pool of blood and vomit. He died shortly before noon that day.
The family plans to file a legal complaint against the dentist and publicly highlight the lax behaviour of medical personnel at the Georgetown Public Hospital with the aim of preventing a reoccurrence.
Lawrence Gopaul was cremated yesterday at the Ruimzeight foreshore where his two sisters, remaining brother, parents and scores of other relatives and friends eulogized and honoured the budding welder who was at the time employed at Pritipaul Singh Investments.
Around the Web