Almost eight years ago Kumeshwar 'Mike' Mohan and his siblings survived being poisoned by their father after he had murdered their mother; their father had then committed suicide.
Mohan, now 20, of Plegt Anker, East Bank Berbice secured a good job with Oldendorff Carriers Guyana Ltd two years ago and his worries are now over.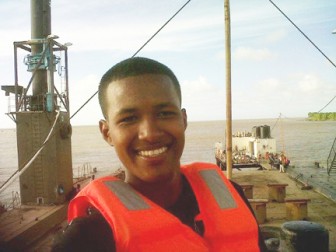 In a recent interview he told this newspaper that he never expected that his life would have changed so positively and said his prayers have been answered.
Being the eldest child, he knew it would be his responsibility to provide for his siblings and grandmother, Rajmonie who took them into her care. But he did not think that caring for them totally on his own would ever be possible.
He tried to earn an income from farming and lost his crop. He had even felt he would have "stuck to farming" because that was all that Plegt Anker had to offer and what he grew up seeing his father doing.
But that was before he met Captain Zakaria El Dib and his wife, Antje. The El Dibs had read about the children's plight in the Stabroek News and offered Mohan a job at the Oldendorff compound in New Amsterdam.
Six months later, impressed with his competence, the company gave him the opportunity to work on the boat.
Oldendorff is engaged in large-scale transshipment of bauxite for the Russian Aluminium Group (Rusal) at Aroaima, Upper Berbice River where Mohan is currently based.
He was also sent on a "seaman's course" in Georgetown and has developed his skills in "steering the boat" and can also do other jobs at the mines.
Mohan who has been meeting a lot of people and making new friends is happy with his job. His colleagues have also taught him a lot.
Captain El Dib told Stabroek News that he was "very proud of him. I want him to be an example for the rest of the workforce that if they work very hard they would know that the sky is the limit."
The captain said too that "he proves one thing to us that if persons get the opportunity and use it well they can do wonders."
He was also impressed that "he is faithful to his family and is unique; not like the other boys his age who would sport and don't look into the interest of their families…"
He promised that Oldendorff would send Mohan on other upgrading courses and he would be promoted as a mate to the captain. In two years, he said, Mohan could become a captain.
Oldendorff also handed out clothing, footwear, toys and bicycles to the family after the El Dibs read the article.
They are expecting another container from Holland at the end of the month and will distribute more items to Mohan's siblings and grandmother and other needy persons.
Most of the items from the container were acquired from a charity store, Castricum which also publishes a Dutch magazine, the Muttahara, to highlight its efforts.
Mohan was happy that the El Dibs have helped him to realize his dreams by getting him the job and said, "They helped to make me somebody. I want to thank them for everything."
He was even happier that his "grandmother feels proud about my success." The woman who struggled to take care of the children no longer has to worry about where their next income would come from.
He recalled that he had gotten money to invest in the farm by going to the backdam with residents a few times to hunt.
He had told this newspaper that he was "caring" his garden and was eagerly looking forward to reaping his produce for the first time.
Sadly, two months later the garden was flooded after a heavy rainfall and he lost his crop and would have had to "start all over again."
He had said too that he was very grateful for what his grandmother, whom he and his siblings fondly refer to as "mama," has done for them and wanted to start earning so he could help to make life easy for her.
His sister, Savita, 14 and brother, Amit, 13 are attending secondary school while his oter siblings, Mohanie, 17 and Sharda, 16 are assisting their grandmother with household chores.
Mohan and the older girls attended the Plegt Anker Primary, which has a secondary department up to fourth form. He was doing well at school and wished he'd had the opportunity to write the Caribbean Secondary Education Certificate examination.
When this newspaper interviewed him almost two years ago he had said that his dream was to see Savita and Amit complete high school. He would also like Mohanie and Sharda to be afforded skill enhancement courses but these are not available in the area.
Although he tries not to think about the incident it would still haunt him it at times. He would quickly dismiss it as a horrible nightmare that he woke up from, though.
"I try to forget about it; to put it behind me and move on because if I study that I would become stressed out," he lamented, while admitting that "it is hard to forget about it."
He misses his father more because "he was always there for us" in spite of him [his father] being responsible for what happened.
His father worked hard on the farm while my mother went away to work in New Amsterdam most of the time. When they died, he said, he felt like his world was destroyed.
Around the Web