Leader of APNU, David Granger yesterday shrugged off AFC Chairman Khemraj Ramjattan's comment that he felt betrayed after the opposition coalition backpedalled from plans to support budget cuts if the explanation by government for spending was unreasonable and said that APNU's actions were principled.
APNU did not feel that it would be in the national interest to embark on any course of action that would endanger the jobs of public servants, Granger told the Sunday Stabroek yesterday.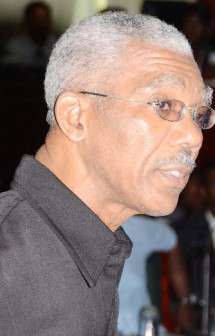 "Our behaviour was principled," he said. "We didn't feel it was in the national interest to support an attack on the public service." Granger stressed that there was no ulterior motive noting that APNU consists of five parties and they have to ensure that decisions are supported by all of them. "I didn't take the decision on my own," he said pointing out that APNU has a parliamentary committee and a shadow cabinet and all decisions are taken collectively.
Granger said the AFC has acted before in its own interest and recounted that the party had not voted with APNU against Financial Paper 8 earlier this year. "That is their right," he said. "We respect the AFC's position and they must respect ours."
In a searing internal e-mail to party executives, which was seen by Stabroek News, Ramjattan said he felt betrayed on Wednesday after learning that APNU was retreating from plans to vote for budget cuts if the explanation by government for spending was unreasonable. Ramjattan spoke of how he was "furious and distraught" after speaking with Granger on Wednesday and noticed that he had made his mind up not to support the proposed cuts. The AFC proposed cutting $3.8 billion in spending from the budget but attempts to make cuts were defeated after APNU members of parliament withheld their votes and the government voted against it.
On Wednesday night there was one item for which there was a proposed cut.  It was an $18 million item for security services for the home of Housing Minister Irfaan Ally and that of his permanent secretary.
The cost was up from only $1.8 at the end of 2010. The AFC proposed that the $18 million be cut by half and voted in support, APNU abstained and the PPP voted against. The PPP's seats ensured that the amendment was defeated and the $18 million was approved.
Ramjattan had noted that Chartered Accountant Christopher Ram helped identify the proposed cuts, which were shared with Granger, as well as APNU executives Joseph Harmon and Carl Greenidge. "Now it was made very clear by me that before we vote for any cuts we will ask serious questions on the line item to be cut, and if the answers given by the Minister were reasonable we will not cut," Ramjattan wrote.
Granger yesterday alluded to limited information with regard to the proposed cuts and referring to the cuts in the allocations for contract workers, he said the general consensus was that it was "an indiscriminate move."
He said the AFC used the term "fat cats" but many chose to work on contract and some work for a normal salary and it is "not a category of outlaws."
He said APNU will continue to seek to work with the AFC on any common position and is interested in a strategic pattern and not an ad-hoc arrangement. APNU is looking to collaborate beyond the budget, he said.
Around the Web