By John Richards
Destitute Abdul Rhakman who makes his home at the University of Guyana (UG) bus shed believes fate has smiled on him as he now enjoys a healthy breakfast every morning and sometimes other meals, compliments of a Good Samaritan named Rafeek Mohamed.
Mohamed, a man of simple means has been employed at AM Khan Limited at La Bonne Intention for many years and is married to Chandramattie Aneen. Together they have raised three children two boys and a girl – the eldest being 18 and the youngest eight.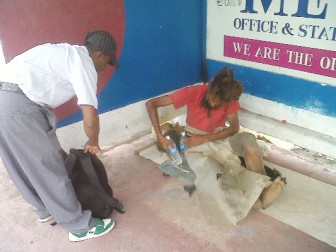 When Stabroek News caught up with Mohamed last week to find out the story behind his humane service, he was reticent initially. When pressed, he said that everything he does, he does simply because he is a Christian.
Mohamed uses the UG road every morning to get transportation to work and every night to get home. He said that one evening about two years back he noticed Rhakman, whose name he learned during the interview with this newspaper, lying in the bus shed. He said Rhakman asked him for some money to buy something to eat. At the time, he said, he didn't have any money or food, but promised the man to return the next morning with something for him to eat.
He said that was the beginning of the service he now provides to Rhakman.  Mohamed leaves for work around 6:30 every morning saddled with his lunch and whatever breakfast his wife would have prepared for the family, in a container for his destitute friend. At around 6:50 am he reaches the bus shed that his friend has made his home and delivers the breakfast with very few words: "Ey morning bai. If a get anything a might pass back later."
Mohamed said he doesn't really carry on a conversation with Rhakman since he has to get a bus and make his way to work at LBI. However, Rhakman never fails to give a word of encouragement and gratitude. This, he says, is all he needs to keep going as it feels good to be helping another person regardless of their status or relation.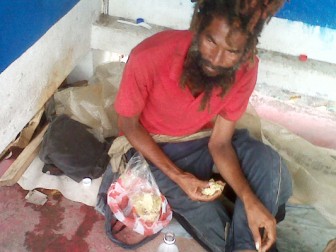 Mohamed's wife said that she is in full support of what her husband does. She said when her husband told her about the destitute man she felt sorry for him and they decided to let the feeding be something continuous. "De man does eat whatever we eating," she said, recalling that on special occasions like Easter and for her daughter's birthday, Rhakman's share of food was taken out and put aside for him and sent with her son in the afternoon.
The couple said it felt good and right to do what they are doing. "We don't have much but anything we have that we know we can help someone by giving from what little we have, we do it," Mohamed's wife said.
According to her there are times when they would get some old clothes that they would have no use for anymore and instead of throwing them away they would give them to Rhakman.
Asked why they did not reach out to other destitute persons, they said they didn't set out to do this but they were moved by Rhakman and they continue to help him.
Rhakman, meanwhile, praises Mother Earth as he says that nothing is done unless she wills it. He initially accommodated this reporter with some hostility, saying that the reporter was exposing the "heart" of his Samaritan. He believes that anything that is done for him was ordained by Mother Earth and that those who assist him will be blessed accordingly.
Rhakman, who quite possibly lived in the United States at some point, and may have been an involuntary remigrant, displayed his bilingual skills. He rattled off several quotes, including the Fifth Amendment which is the right to remain silent in Spanish. He said that many persons came before and tried to assist him but none of them were as consistent as Mohamed.
At the time of this newspaper's visit, there was another destitute man asleep in the bus shed, but Mohamed said he had probably only gone there the night before.
Rhakman's food came in a plastic bag, along with what seemed to be a Thrill soft drink.
Mohamed's wife said they initially used to put his meals in a container, but when they went to retrieve it, it was never there. She said she didn't know what Rhakman did with the container but they decided to put his food in cheap disposable holders such as plastic bags and wrapping paper.
The Mohameds have never extended their service to Rhakman beyond providing him with meals. They never enquired where he came from and how come he ended up in the bus shed. They said it is a joy to help in whatever way they can and promised that as long as it is within their means and the will of God they will continue to help Rhakman.
Around the Web