The police are investigating the murder of 29-year-old Travis De Souza whose body was found at Puruni, Region Seven with suspected stab wounds on Saturday.
Relatives say that the Police have apprehended one of the suspects.
Reports are that De Souza of Lot 13, Section C, Golden Grove, East Coast Demerara, who owns and operates a mining dredge in the Puruni area, was asleep in his camp with his girlfriend when four men entered sometime around 4:00 am on Saturday and began chopping him about his body.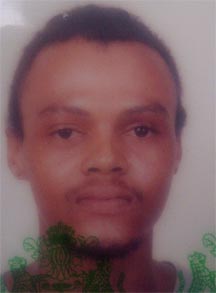 His mother Rona De Souza told this newspaper that she was informed of the incident sometime around 7 am in a call from his girlfriend.
The distraught woman said "The girl call and tell me that about 4 Saturday morning four man walk in the camp and then the first chop them fire is to head and he get up and said 'Matthew me know you and this is what you gon do to me boy, we from the same village', but dem still continued chopping he."
She added that her son's assailants just continued chopping him and severed his ears, toes and fingers.
De Souza told Stabroek News that her son had come out of the interior to spend the Easter holidays with her and the family. He was later involved in a motorcycle accident which delayed his departure for the interior. He left last Wednesday.
She said "He came out fuh Easter and was supposed to leave the next week but then he get in an accident with he motorbike and had to stay longer but he tek (a girl) and went back in the bush last week Wednesday because he left all he thing there."
The woman added that one of the other reasons why De Souza came back home is because one of his dredges was encountering some technical difficulties so he brought it out to be repaired and left all his other mining equipment unattended in his camp.
She stated that while at Golden Grove he was constantly worried about his equipment and upon arrival at his camp he was greeted with only a roll of hose which may have infuriated him and this may have been the reason he was murdered.
"They kill he because he talk about the things them thief from he and he know is who do it", he said.
She described her son as very hardworking and said he was a miner since he was a teenager and always abides by the law.
Last July, De Souza's uncle, Earle Austin, 37, of Nabaclis, ECD, a miner, was tied to a tree at 14 Miles, Bartica and beaten to death by three men who were also armed with guns. He had been accused of having knowledge of a missing brush cutter. Austin had no chance of survival as he sustained numerous injuries to the head and other parts of his body along with broken limbs.
The family is calling on the relevant authorities not to let this matter go cold like Austin's case.
Around the Web