Director of Latin America and the Carib-bean of the European Commission's Directorate for Development and Cooperation (DEVCO), Jolita Butkeviciene is to begin a three-day working visit here today in order to assess Guyana's capacity to improve in its development cooperation relations with the European Union.
During her visit Butkeviciene is scheduled to meet President Donald Ramotar, Prime Minister Samuel Hinds, Foreign Affairs Minister Carolyn Rodrigues-Birkett, Finance Minister Dr Ashni Singh, Minister of Public Works Robeson Benn and Speaker of the National Assembly Raphael Trotman.
The European Union said in a press release that she is also expected to meet Leader of the Opposition David Granger, private sector representatives, ambassadors of neighbouring countries, the British, Canadian and American Heads of Mission, as well as the acting Secretary General of CARICOM and the Director General of CARIFORUM.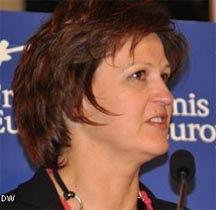 Director Butkeviciene is also scheduled to visit key projects supported with EU funding, including the sea defences, Ogle international airport and the mangrove restoration projects. She is also expected to have discussions with representatives of the sugar industry and visit the GuySuCo operations at Enmore.
The release also noted that at the end of her mission on Wednesday she will be in a position to better assess Guyana's capacity to deal effectively with the EU and to better programme EU development cooperation as a consequence.
Her visit also marks a historic milestone in EU/Guyana relations as it is the first for a high level official from the EU headquarters in Brussels under the 10th EDF programme cycle which began in 2007, the release said.
Around the Web