Ninety-four foreign miners – many of them Brazilians – were snared in a recent crackdown by the government against illegal mining which apparently led to a high-level delegation from Brazil's state of Roraima seeking clarifications from Georgetown.
For years illegal Brazilian miners – garimpeiros – have been a problem in the mining hinterland and the situation has been exacerbated over the last few years with the dizzying climb in the price of gold.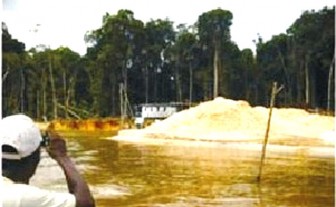 A release from the Government Information Agency said yesterday that `Operation El Dorado' was carried out from April 10 to 15 in the Puruni area in Region Seven. The operation was only announced yesterday.
"The operation involved inspection of mining camps and operations to determine the status of the property being worked, verification of mining privileges and certificate of registration for persons employed, inspection of the requisite documentation, including dredge licences and production books, sanitation, environmental and occupational health and safety compliance. Also, the Guyana Police Force's (GPF), Tactical Services Unit team checked for guns, ammunition and drugs, while an immigration team checked the status of foreign workers," GINA said.
It said that the operation led to the detention of 94 foreign miners for breaching of the mining, environment and/or immigration laws. GINA said that in most cases the foreigners had no work permits, no certificate of registration and in some cases their visas had expired. Thirty-two local miners were found to have breached the mining regulations.
Further, GINA said, two river-based operations breached the 'cease work' order and continued working the river banks which is prohibited, according to mining regulations. It was also found that gold production records were incomplete and in some cases non-existent. Mining on prospecting Permit and Prospecting Licence property also occurred contrary to the regulations. Mining was also found on prohibited river bank buffer zones.
Critics have said that these problems have existed for many years but that there has been lax enforcement from the Guyana Geology and Mines Commission and other enforcement agencies.
GINA said Minister of Natural Resources and the Environment, Robert Persaud, Chairman of the Board of Directors of GGMC, Major General (rtd), Joseph Singh and other senior officers of the government recently caucused with a delegation from the State of Roraima, Brazil following the detention of scores of illegal Brazilian miners in Operation El Dorado.
GINA said Persaud pointed out that the operation is intended to target illegal mining and other unregulated mining activities. Noting that a large number of Brazilians was caught in illegal mining activities, Persaud said the visit of the Brazilian team is welcomed "to examine a joint effort to ensure Brazilian miners are registered and engaged in sustainable mining activities and comply with national laws." The Government of Guyana values the friendship of its southern neighbour and the investments made by Brazilians in Guyana, Persaud said, according to GINA.
Mining in Guyana is lucrative business for many miners from Roraima and it appears that the state government there was pressed to intervene with the Guyana Government on the crackdown.
GINA said the Roraima team, which included Deputy Francisco Xingu, President of the Commission Assembly Legislative Roraima of Human Rights, Deputy Francisco de Sales Guerra Neto, President Assembly Legislative of Roraima State, Deputy Cornel Chagas, Member of Public Service & Security, and Leila King, Guyana Consul General to Boa Vista agreed to work closely with the Government of Guyana and the Brazilian Embassy to provide necessary support to Brazilians to regularize their activities.
On April 17, scores of Brazilian miners congregated at a business establishment at the corner of Robb and Cummings streets concerned over the difficulties they were encountering with regard to acquiring work permits. Many of the Brazilians said that they had been working in Guyana for some time now and they were having a hard time over their papers. Alcino Gama Ribeiro told Stabroek News that he had been working in Guyana for the past eight years. He said he submitted his documentation one year ago and his application for a work permit was never approved, and now he has to make a new application. He said that after they pay for their work permit and travel to the interior, the police are not accepting anything short of a work permit despite the explanations given. Ribeiro, who has a child in Guyana, said he was worried about maintaining his family given the present difficulties being encountered with the acquisition of work permits.
Around the Web