The Central Police Station Management Committee in partnership with other organisations on Friday donated food to senior citizens of Angoy's Avenue, in Berbice.
Over 900 pounds of dry ration were given to 40 randomly selected residents between the ages of 60 and 80 years old as part of the initiative, which included the input of the Community Policing Group, the business community, the Scouts Association and the Black Bush Water Users Association.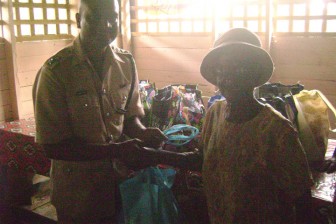 In addition to the donations, the residents benefited from vital signs testing from General Surgeon Dr Bob Ramnauth, who was accompanied by medical staff from the New Amsterdam Hospital, along with Medex Lynette Toney, of the Guyana Prison Service.
Residents were also treated for minor conditions and received referrals for advanced care in other cases.
Angoy's Avenue has a high incidence of crime but Commander Derrick Josiah, in a short speech, said the initiative was intended to show that police involvement in the community extends beyond making arrests. "The police are products of the society. We can identify ourselves with you. We want to forge an excellent relationship .We are approachable. Call us anytime," he said.
Also present at the handing over were Inspector Jairam Ramlakhan, Regional Chairman David Armagon and Professor Daizal Samad, of the University of Guyana's Tain Campus, who all noted the importance of the relationship between the police and the communities.
Justice William Ramlall was also a speaker at the handing over and noted that while a lot of citizens bemoan the courts for loosing criminals on the streets, the court cannot convict on poor evidence. "You have a role to play.
You need to tell the police who are the bad eggs. If you condone it, it will get worse.
All of you must make an effort to close the gap and comment on the crime as they are committed," he said.
Around the Web