(Trinidad Express) A clear motive has not yet been established for the shooting deaths of a couple who were asleep at their Thomasine Street, Laventille home, early yesterday.
They have been identified as Fitzroy Hinds, 22, of La Pena Extension, Thomasine Street, Laventille and his 22-year-old girlfriend, Kercel Aleong, of Lady Young Road, Morvant. Aleong, mother of a four-year-old boy, was four months pregnant.
The couple were killed shortly after 6 a.m., police said. They were both shot multiple times about the body but police said the bullets may have been meant for another person who had managed to flee the house.
At the crime scene yesterday, Hinds's adopted mother Aisha Jones told the Express she was deeply saddened by the unfortunate incident which has left her family in shock.
She said she took care of Hinds after his mother died while he was a baby and it was difficult to come to terms with the manner in which he died.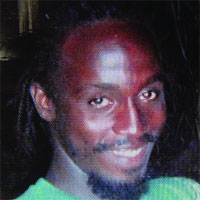 Jones, who broke down in tears, said Hinds never troubled anyone and was not known to be involved in criminal activities. She said he only found himself at the centre of controversies when women would often fight over him. Jones admitted that Hinds had a matter pending before the court for possession of a firearm but managed to stay out of trouble.
"He's so quiet and helpful and a hell of a darling. He had a nickname, 'Patience', and that in itself would tell you the type of person he was. He had a lot of patience but didn't like to see anyone being taken advantage of. He was not in nothing and the only thing you used to hear he name call in is when them girls fighting over him because he was a very handsome person and for him to be killed like this is not nice.
"He was trying to get his life together and he was expecting a child but that child is dead now because his girlfriend was killed. Recently he build the same house he got killed in because he was determined to have a family of his own," Jones said as she broke down in tears.
Meanwhile, Aleong's father, David, also said the incident has left his family in a state of shock. He said up to late yesterday they were searching for a possible motive behind the incident.
David said Aleong left her Morvant home to attend a function at Hinds' home in Laventille but decided to spend the night by him.
He added it was a shock when they received a phone call that his daughter, one of three children, was killed while asleep.
"We feel very sad because she's not in anything and nobody expecting that to happen because they were innocently killed," he said.
According to police, around 6 a.m. residents of La Pena Drive heard several gunshots and upon investigation they discovered the bullet-riddled bodies of the couple inside the house.
A report was made to the police and officers of the Port of Spain Division Task Force, including Insp Nesbit, Sgts Coggins, Springer and Cpls Surju, Budri, Mings and De Gale, went to the scene.
Around the Web