Vryheid Village, West Canje, Berbice resident Angela Hooper is living in terror after recent death threats by her common-law husband, who is free despite a recent conviction for armed robbery.
Raymond La Fleur was recently sentenced in absentia to five years imprisonment  by Magistrate Adela Nagamootoo, in the New Amsterdam Court but no wanted bulletin has been issued for his arrest, while Hooper has endured threatening phone calls and the destruction of her clothing and other articles at her home.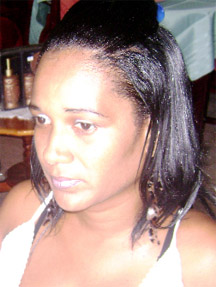 Hooper, who believes the man is interested in their jointly-owned property, explained that she was forced to remain with La Fleur as a result of constant threats for the duration of their nine-year relationship. She decided to leave him while he was last imprisoned on a murder charge and soon after she received a call from La Fleur, who said persons would be sent to poison her water.
Late last month, Hooper temporarily moved from the house after La Fleur was released from prison, fearing that he would make demands of her. She returned to the house only after the man was sentenced and he had gone into hiding. However, on April 13, she said, the man visited and tried to get her to let him in, but she refused and called the police.
Hooper alleged that one of the three policemen who later turned up, a detective constable, whom she named, ended up trying to convince her to reconcile with the wanted man. She went to her mother's home the next day and was summoned to the Central Police station by the constable. She went with her mother and her son and they spent almost four hours at the station, after which she decided to return home. Once there, Hooper found her underwear cut up and lined along the gate. Inside the house, several items had been destroyed including her blender, music set, television, gas stove, and clothes. A mixture of mustard and detergent was also dumped over some household articles.
Hooper returned to the station and made a report and also accused the policeman of helping her husband. She said her reports and statements have been submitted to the acting Divisional Crime Chief and the Deputy Commander. Nevertheless, she said, La Fleur remains free. "He knows how the system works. He knows if there is no evidence, no eyewitness, there can be no conviction, and that is why I am afraid of him. He got off from a murder charge… I feel like he plans to murder me and get away with it. I am getting sleepless nights because the police are not arresting Raymond. When he calls he would repeatedly say he knows the law and that you can kill and get off. He knows what he is capable of doing. In addition, every time I go to the station, he knows," she added.
Around the Web