With the retirement of Henry Greene, acting Police Com-missioner Leroy Brumell is now the most senior rank in the Guyana Police Force (GPF), but an informed source says he may not be confirmed in the post, for which Crime Chief Seelall Persaud is believed to be the favoured choice.
Brumell, an Assistant Commissioner of Police who has been performing the duties of Police Commissioner since Greene proceeded on leave last December, is about two years away from reaching retirement age.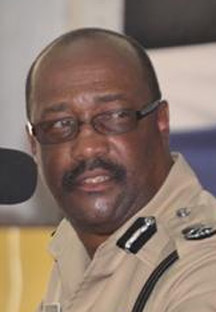 Stabroek News was told that Brumell will remain in the acting position until he reaches the retirement age, after which there will be an opportunity for Persaud, who is also an Assistant Commissioner, to be elevated.
Greene, who had been retained past retirement age, last week retired amidst calls for him to step down over an allegation that he raped a woman who sought his intervention in a criminal case.
He had been confirmed as Commissioner after he served in an acting capacity for about two years.
Speaking on the promotion process, a source told Stabroek News recently that "the president's choice could be anybody" despite the fact that the constitution calls for the government to have "meaningful consultation" with the opposition on the candidate.
The source indicated that once there is consultation, the government's pick can be sworn in as Police Commissioner without the blessings of the opposition. "The opposition can agree or disagree. The opposition never agreed to Greene," the source pointed out.
Opposition Leader David Granger said yesterday that he was expecting to be consulted by President Donald Ramotar on this issue.
He added that he does not have a "private choice."
The source told this newspaper that when it comes to seniority Brumell is the best candidate but the favourite is Persaud.
Brumell has years of experience, but working against him is the fact that he does not have qualifications outside of the force. Brumell has travelled overseas for training courses but is not the holder of a university qualification. Persaud, meanwhile, has a Degree in Public Manage-ment as well as a post-graduate qualification.  Although not a criterion to be promoted to Top Cop, higher education is seen as an advantage.
Persaud's candidacy, however, may be disadvantaged by his lack of experience as the head of a police Division and has no real experience     in managing subordinates. Before appointed Crime Chief, Persaud was attached to the Police Narcotics Branch.
The source identified Assistant Commissioner Deryck Josiah, who heads 'B' Division (Berbice) as the next best choice after Brumell, but noted that he would not likely be considered since he only attained the rank about one year ago. 'A' Division (Georgetown) head Assistant Commissioner George Vyphuis, former 'D' Division (West Demerara) commander Assistant Commissioner Balram Persaud and 'C' Division (East Coast) commander Assistant Commis-sioner David Ramnarine are also counted out as potential choices.
Meanwhile, speaking on Greene's retirement yesterday, Granger said, "I do not disagree with the option that Mr Greene chose. I do believe that apart from all the legal considerations, the confidence of the public and the confidence of his own subordinates had drained away and he did the correct thing to retire."
Around the Web